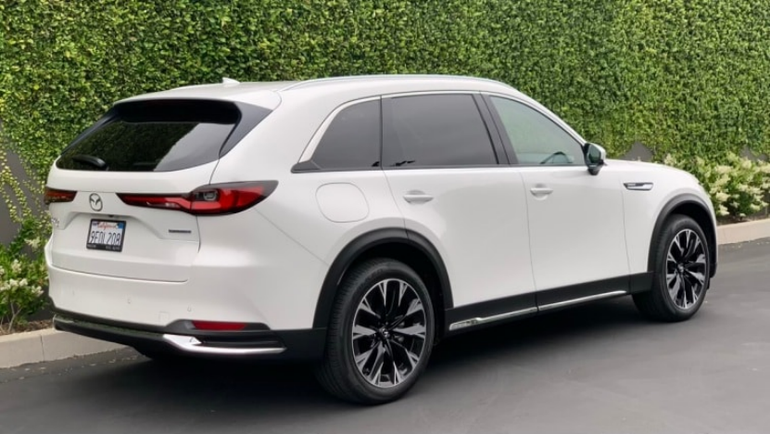 The 3-row SUV is a remarkable vehicle. For those of us who routinely need to carry more than four people, it's the most adaptable form of transportation. Many can conquer any terrain in any weather. There are few things they can't carry. And yet the best of them aren't much harder to drive than a midsize car.
There are two new entries in the non-luxury category this year. The 2023 Honda Pilot, an old reliable answer, has been redesigned from the ground up. The 2024 Mazda CX-90, meanwhile, is all-new. The CX-90 also has an option few 3-row SUVs have to offer – a plug-in hybrid (PHEV) drivetrain that lets its owners drive on pure electricity or gasoline.
Let's compare the two. Note that this article compares the 2024 CX-90 to the 2023 Pilot because those are the models currently on dealership lots.
2024 Mazda CX-90 PHEV
The 2024 Mazda CX-90 is entirely new and offered in both gas-powered and plug-in hybrid forms. The PHEV model can charge from a wall socket and travel up to 26 miles on electricity alone, then use gasoline to go farther. It's filled with premium details rivaling some luxury SUVs. Prices start at $47,445.
Mazda CX-90 PHEV Highlights
Like owning an electric car and a gas-powered car: The Mazda CX-90 lets most drivers go electric for day-to-day driving without the range limitations of an electric car. It charges from a standard wall outlet overnight and can travel up to 26 miles on electricity alone. But its 4-cylinder engine gives it effectively unlimited range as long as you have access to gasoline where you're going.
A style advantage inside and out: The CX-90 PHEV is probably the most upscale-looking 3-row SUV outside of the hyper-expensive luxury classes. Outside, its long hood and rakish lines look truly sharp. Inside, considered details like stitching borrowed from traditional Japanese bookbinding techniques and available Nappa leather make it feel a class above its price point.
Crisp handling: Car critics have said the current-generation Mazda MX-5 Miata may be the best-handling car on the road today. Why are we talking about the Miata in a CX-90 PHEV article? Because Mazda used the same Kinematic Posture Control technology that makes the roadster feel so crisp on the CX-90. It feels far more agile than you'd expect such a big vehicle to feel.
Check this week's Fair Purchase Price or see the CX-90 PHEV models for sale near you.
2023 Honda Pilot
The Honda Pilot has been around for more than 20 years, but it's entirely new for the 2023 model year. Always a family-friendly cruiser, Honda beefed it up for the new model year. It looks more rugged and handsome than ever, and an available TrailSport trim turns it into a real off-roader. But, strangely, there's no hybrid version. Honda knows hybrid technology well but somehow chose not to compete with such fuel-efficient 3-row SUVs at all. Prices start at $36,300.
Honda Pilot Highlights
Lower price: The CX-90 PHEV will save you at the pump — and save you a lot at the pump if your daily commute and errands are under its all-electric range. But it would take an extremely long time for those savings to make up the money you'd save by buying the conventional Pilot instead. If the CX-90's style appeals to you and hybrid power doesn't, the conventionally-powered CX-90 is closer to the Pilot in price.
SUV capability: The Pilot used to have a reputation as a virtual minivan in SUV form. But it's been hitting the gym and the trails. This new version can tow up to 5,000 pounds (1,500 more than the CX-90 PHEV), and the rugged TrailSport trim has trail gear you probably don't expect from Honda, like real skid plates.
Flexible space: The Pilot's boxy shape doesn't just look capable; it is capable. It has more cargo capacity than the CX-90 PHEV with all seats in place, the third row folded, or the second and third rows folded. And it offers a clever hideaway center seat in the second row that lets owners tuck the middle seat into the floor. That gives you two individual chairs or a 3-seat bench on the fly.
Check this week's Fair Purchase Price or see the Pilot models for sale near you.
Similarities
These two have the same warranty coverage but not much else in common
Conclusion
There are two big differences between a conventionally powered SUV and a plug-in hybrid one. One is price — two powertrains are simply more expensive than one. The other is efficiency.
The 2024 Mazda CX-90 PHEV is one of the very few plug-in hybrids available with a third row of seating. It creates a unique lifestyle opportunity – the chance to go electric for your daily driving without range anxiety. It also does it with a luxurious flair.
The 2023 Honda Pilot can't match the Mazda's efficiency or its debonair style. But it's far less expensive and has a go-anywhere toughness the Mazda lacks.
Specifications
| | | |
| --- | --- | --- |
|   | 2024 Mazda CX-90 PHEV | 2023 Honda Pilot |
| Starting Price | $47,445 | $36,300 |
| Popular Powertrains |   |   |
| Engine | 2.5-liter 4-cylinder plus electric motor | 3.5-liter V6 |
| Horsepower | 323 hp @ 6,000 rpm | 285 hp @ 6,100 rpm |
| Torque | 369 lb-ft @ 4,000 rpm | 262 lb-ft @ 5,000 rpm |
| Transmission | 8-speed automatic | 10-speed automatic |
| Fuel Economy | TBD | 24 city/28 hwy/25 combined mpg |
| Max Towing | 3,500 pounds | 5,000 pounds (with AWD) |
| Also Available | Inline 6-cylinder | AWD |
| Specs |   |   |
| Basic Warranty | 3 years/36,000 miles | 3 years/36,000 miles |
| Powertrain Warranty | 5 years/60,000 miles | 5 years/60,000 miles |
| NHTSA Overall Safety | TBD | TBD |
| Max Seating Capacity | 8 | 8 |
| Wheelbase | 122.8 inches | 113.8 inches |
| Overall Length | 201.6 inches | 199.9 inches |
| Width | 84.9 inches | 78.5 inches |
| Height | 68.2 inches | 71.0 inches |
| Turning Diameter | 38.1 feet | 37.8 feet |
| Headroom, 1st Row | 39.7 inches | 40.5 inches |
| Headroom, 2nd Row | 39.3 inches | 40.2 inches |
| Headroom, 3rd Row | 36.9 inches | 39.3 inches |
| Legroom, 1st Row | 41.7 inches | 41.0 inches |
| Legroom, 2nd Row | 39.4 inches | 40.8 inches |
| Legroom, 3rd Row | 30.4 inches | 32.5 inches |
| Shoulder Room, 1st Row | 57.2 inches | 61.9 inches |
| Shoulder Room, 2nd Row | 58.1 inches | 61.7 inches |
| Shoulder Room, 3rd Row | 53.3 inches | 59.5 inches |
| Cargo Volume | 14.9/40.0/74.2 cubic feet | 18.6/48.5/87.0 cubic feet |
Source: https://www.kbb.com/comparison/2024-mazda-cx-90-phev-vs-2023-honda-pilot-comparison/