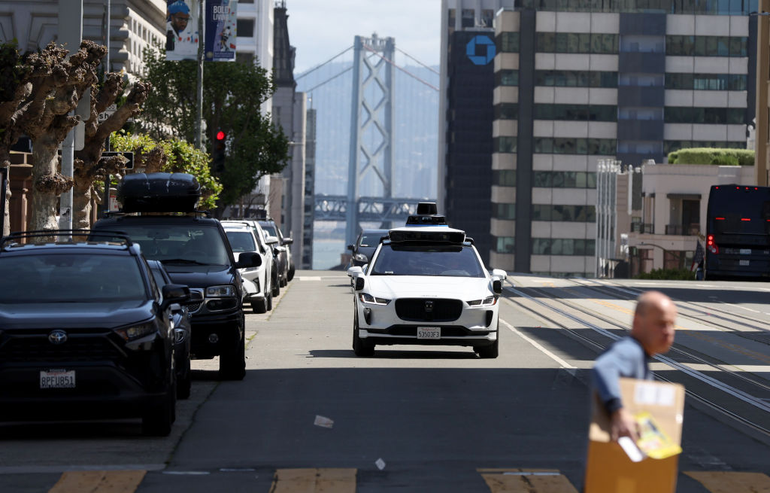 When San Francisco first began offering driverless, commercial "robotaxis" to ferry the public, it seemed as though the city could actually turn a feat promised by science fiction into a reality. Then, things started going wrong.
A car stopped in the middle of the street during rush hour, causing a two-mile traffic jam. Another drove into a construction zone. Emergency responders racing towards a medical call were held up for 8 minutes as they rapped on the windows of a driverless car blocking the way. The incidents began piling up, drawing the ire of both city officials and residents alike.
Now, as state regulators look to expand the city's contract with two driverless car providers on June 13, many in San Francisco are pushing back against the plan in sometimes creative ways.
Mounting Disapproval
The California Public Utilities Commission (CPUC) will hold a vote to determine whether the two companies—Waymo, founded by Google's parent company Alphabet, and Cruise, which is majority-owned by General Motors—will be allowed to charge passengers a fare for rides, a major milestone for expansion. The companies currently offer limited service in the area, but if passed, they will be able to operate similarly to Uber and Lyft, charging money for rides throughout the city.
The decision is largely out of the hands of local officials, many of whom have expressed their disapproval. The San Francisco Fire Fighters Local 798, the San Francisco Police Officers Association and the San Francisco Deputy Sheriffs' Association all sent letters to the commission expressing their concerns over interactions between autonomous vehicles and emergency services, the San Francisco Standard first reported.
The city's Director of Transportation, Jeffrey Tumlin, called the robotaxi expansion a "race to the bottom," telling the Standard that Cruise and Waymo cars have only "met the requirements for a learner's permit." In many instances, stalled vehicles have required the intervention of company employees to move the vehicles.
Activists in the city have been pushing back against the cars in a novel way. One group, known as Safe Street Rebel, discovered the cars could be disabled by placing a traffic cone on a vehicle's hood, and began encouraging others to do so to protest the expansion. The group says the cars block traffic flow and pose a surveillance threat as police begin to use video footage captured by the taxis' cameras on robotaxis as evidence to help solve crimes. The group has encouraged residents to comment at the hearing.
"Cruise & Waymo promise they'll reduce traffic & collisions, but we know that's not true," the group wrote on Twitter last week. "They block busses & emergency vehicles, create more traffic, and are a surveillance nightmare."
"And more importantly, they require streets that were designed for cars, not people or transit," they said in a TikTok post.
Read More: Why Self-Driving Cars Might Not Decrease Fuel Consumption
Elected officials, accessibility advocates, technology industry groups and business and economic development organizations have all come out in support of the expansion, TechCrunch reported.
In an emailed statement to TIME, Cruise said its "fleet provides free rides to late-night service workers without more reliable transportation options, has delivered over 2 million meals to food insecure San Franciscans, and recovers food waste from local businesses. Intentionally obstructing vehicles gets in the way of those efforts and risks creating traffic congestion for local residents."
The company added the protests have not impacted operations in a meaningful way and noted that its fleet has not recorded a single fatality or life-threatening injury. Waymo did not respond to a request for comment.
Looming Expansion
Robotaxis began operating in San Francisco in June 2022, but many services have since expanded across the U.S. In May, Waymo doubled its operations in Arizona, creating what the company claims is the largest fully autonomous service area in the world. The company is also looking to begin service in Los Angeles. Another company, Halo.Car, began remotely piloted rental cars in Las Vegas.
Cruise's CEO Kyle Vogt estimates the company is on track to reach $1 billion in revenue by 2025,but many others in the market are still trying to find their footing. In February, Tesla Motors paused installations of its controversial "Autopilot" self-driving system after federal safety regulators deemed it posed a 'crash risk'. And last October, Ford Motor took a $2.7 billion loss after it failed to find a buyer for the driverless startup, Argo AI, which it acquired for $1 billion in 2017.
The agenda for the July 13 vote implies that the expansion is likely to pass, a milestone Vogt says is just a stepping stone.
Source: https://time.com/6293896/why-expanding-driverless-taxi-service-is-facing-protests-in-san-francisco/