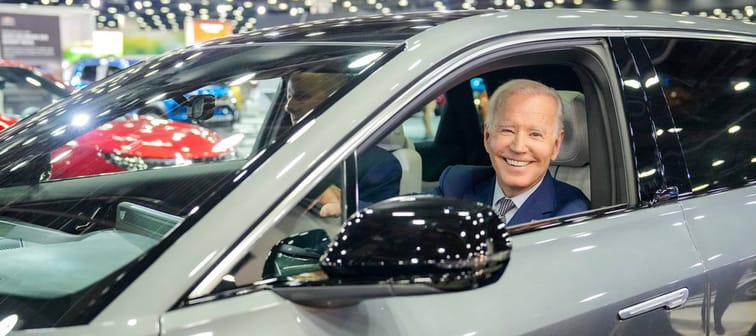 President Joe Biden has made a bold call about the future of the auto market, stating: "American manufacturing is back."
Since coming into the Oval Office, Biden has championed robust "Made in America" policies, specifically with regard to domestic manufacturing of electric vehicles (EVs), EV chargers and batteries.
The need for strong and stable domestic production became only too clear during the COVID-19 pandemic, when a global shortage of semiconductor chips stalled auto manufacturing and drove new car prices beyond the budgets of many Americans.
But thanks to a string of legislation — including the Bipartisan Infrastructure Law, the Inflation Reduction Act and the CHIPS and Science Act — the U.S. has accelerated manufacturing and jobs growth.
"Because of our Investing in America agenda, I believe we'll own the future of the automobile market," Biden tweeted July 9.
For Biden, that future may be electric. Is the U.S. set to become a world leader in the EV space? Here's how the auto market stands now.
Where do American automakers stand?
Optimists may look at Biden's bold plan for EVs and say: "It's working!"
In the first quarter of 2023, the Tesla Model Y became the world's best selling car — the first time ever that an all-electric vehicle has held that title.
According to data compiled by JATO Dynamics, a consulting firm that serves the global auto industry, published by Motor 1, Tesla (NASDAQ:TSLA) knocked Toyota (NYSE:TM) off the top spot in the early months of 2023, selling more Model Y units worldwide than the popular Toyota RAV4 and Corolla models.
In total, Tesla sold 267,200 Model Ys in the first quarter of this year, an increase of roughly 69% from the same period last year. Over one-third of the units, or 35%, were sold in China, while 31% were sold in the U.S.
Tesla CEO Elon Musk predicted the Model Y's success back in 2021, telling investors: "We think Model Y will be the best selling car or vehicle of any kind in the world. Probably next year."
His timing was slightly off — the Model Y was only the third best-selling vehicle globally in 2022, according to JATO Dynamics — but the electric SUV has enjoyed a roaring start to this year thanks to recent price cuts and Tesla's worldwide expansion.
While things are looking up for Tesla, that may not be enough for Biden to persuade skeptics about America's car-making future — as it is Japanese automaker Toyota that continues to dominate global sales.
In the first quarter of the year, Toyota rounded out the top five best-selling cars list, selling: 256,400 Corolla, 214,700 Hilux, 211,000 RAV4 and 166,200 Camry models.
You may be thinking: "Where's Ford?"
One Ford (NYSE:F) vehicle did make the list of global best sellers in 2022. The Ford F-150 — a regular contender for the U.S. sales crown — ranked in ninth place.
It's important to note that Ford launched an electric version of the popular pickup truck in May of 2021, the F-150 Lightning. From April through June 2023, the American automaker sold 4,466 F-150 Lightning vehicles, up 118.7% compared to just over 2,042 in Q2 the previous year.
How to bet on the auto sector
If you're convinced by the EV wave — and the potential dominance of American auto manufacturers — there are several ways to bet on the sector.
You can buy stocks in EV companies like Tesla and Rivian (NASDAQ:RIVN), but be mindful that most EV stocks have had a bumpy ride in recent years.
EV stocks have been on an upward trend since the S&P 500 entered a new bull market in June, thanks to investor hype for artificial intelligence and advanced technologies.
If you're keen to invest in American car production more broadly, most other major car companies like General Motors (NYSE:GM) and Chrysler (NYSE:FCAU) are also developing at least one model of EV.
Finally, you could invest in companies that build components for the auto industry, such as batteries, semiconductor chips, autonomous vehicle systems or EV charging solutions.
For instance, ChargePoint Holdings (NYSE:CHPT) has one of the largest EV charging networks in the world. It has around 5,000 commercial and fleet customers, including 80% of Fortune 50 companies.
Source: https://moneywise.com/news/economy/american-car-manufacturing-back-biden