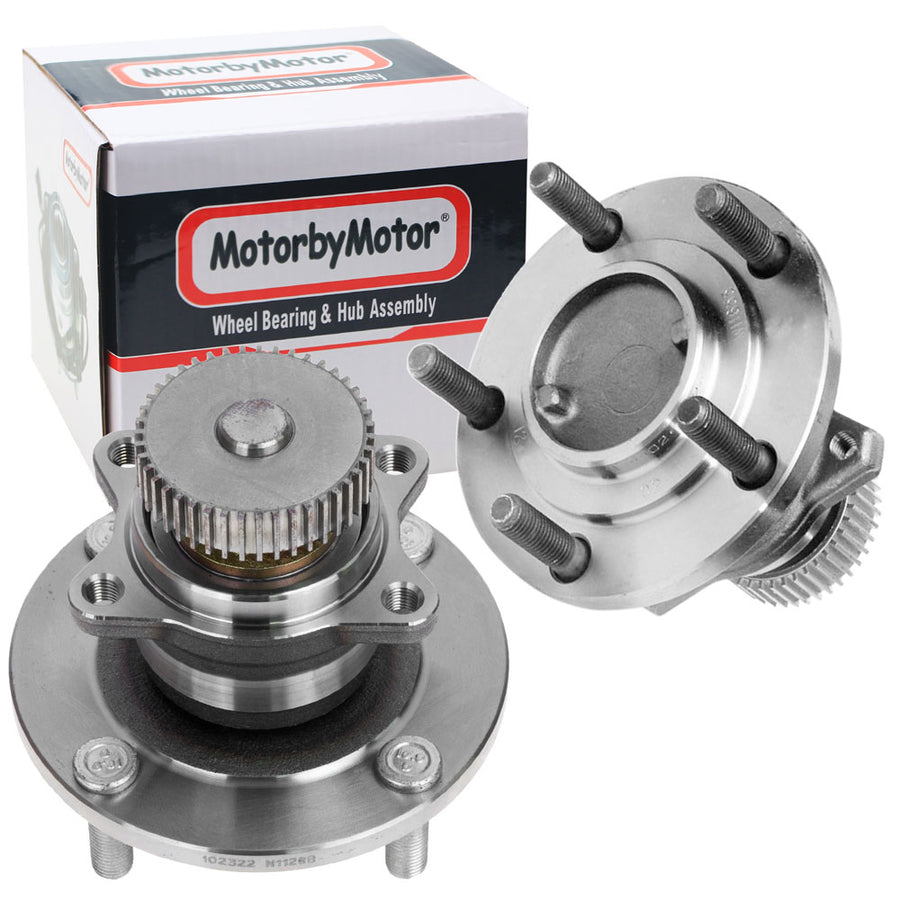 SECURE SHOPPING GUARANTEE
Rear Wheel Bearing for Chrysler Sebring, Dodge Avenger Stratus, Eagle Talon, Mitsubishi Eclipse Galant Wheel Hub 5 Lugs 2WD FWD, w/ABS 512136 (2 Pack)
Wheel Bearings, Hubs & Seals
Rear Wheel Bearing for Chrysler Sebring, Dodge Avenger Stratus, Eagle Talon, Mitsubishi Eclipse Galant Wheel Hub 5 Lugs 2WD FWD, w/ABS 512136 (2 Pack)
Fit the Following Vehicles:
1995 1996 1997 1998 1999 2000 2001 2002 2003 2004 2005 Chrysler Sebring-
1995 1996 1997 1998 1999 2000 Dodge Avenger
2001 2002 2003 2004 2005 Dodge Stratus
1995 1996 1997 1998 Eagle Talon
1995 1996 1997 1998 1999 2000 2001 2002 2003 2004 Mitsubishi Eclipse
1996 1997 1998 1999 2000 2001 2002 2003 Mitsubishi Galant

OE Part Numbers:512136,WE61382,712136,BR930172,HA590306,MR103654,WB12136.

Feature:
Position:Driver(LH Left) or Passenger(RH Right) Side Rear
Number Of Lug Bolts Included: 5
Driven Or Non-Driven: Non-Driven
Number Of ABS Sensor Ring Teeth: 43
Number Of Mounting Bolts To Knuckle: 4
Number Of Flange Bolts Included: 4
Lug Bolt Thread Size: M12-1.50
ABS Ring Type: Tone Ring
Gasket Or Seal Included: Yes
Flange Bolt Size (in): 1.37 Inch
Flange Bolt Thread Size: M12-1.25
Inner Ring Width (in): 0.59 Inch
Total Hub Diameter (in): 5.413 Inch
Hub Centerbore Diameter (in): 4.5 Inch
Total Hub Height (in): 5.307 Inch
Flange Diameter (in): 5.413 Inch
Flange Offset (in): 2.322 Inch
Outer Ring Width (in): 2.13 Inch
Hub Pilot Diameter (in): 2.6 Inch
Material: Steel
When you buy from AFA Motors, you can rest assured that you'll get the right part for your vehicle, or we'll make it right.
Free Return Shipping on Exchanges
We'll pay for the return shipping on exchanges for all orders (even gifts with proof of purchase).
Plus every purchase comes with our 1-year lower price guarantee and expert service from our team of Gearheads.
It's our commitment to you, exclusively from afa-motors.com.
Some restrictions apply. See terms below.
---
How to Return an Item
Step 1: Start a Return from Your Online Account
Please log in to your account. Locate and click on your order under Order History. Find the item you wish to return or exchange and click on Return Item to submit your request.
Step 2: Receive a Return Authorization Number (RMA#)
One of our customer care specialists will provide you with:
An RMA#
An email with detailed return shipping instructions
Step 3: Pack & Ship
Pack everything that came with the product using its original packaging.
Affix the return shipping label that we provided to the package. If we didn't provide you with a return shipping label, make sure to include the RMA# on the package.
Ship the package to the address specified in the email you received from Step 2.
Step 4: Receive Your Refund or Exchange
After we receive your package, we'll process your refund or exchange immediately. You can expect to see the refund, less any applicable restocking fees, credited within 5-7 business days, to the payment method that you used when you originally placed your order. If you selected an exchange, we will ship you replacement item out immediately.
Restocking Fees
All returns are subject to a 20% restocking fee.
We'll waive the restocking fees if we made a mistake or if the product was delivered defective.
We'll also waive the restocking fee if you decide to exchange your product with another purchase.
---
Frequently Asked Questions
Which products can be returned or exchanged?
Most products can be returned within 30 days of purchase, provided it is returned in original packaging and the items are in new and unused condition. We reserve the right to charge up to the full value of the product for items not received in this condition.
Products that cannot be returned or exchanged:
Some products, including, but not limited to, custom patterned and custom, and painted items are not returnable
Products that shipped via freight, typically oversized and heavy items.
Products that have been installed on your vehicle
Products that have been modified (drilled or altered in any way)
Under what conditions may I return an item?
Defective Product
While we pride ourselves in our partnerships with leading vendors, accidents happen. Call us at (800) 874-8888 option #2 once you've discovered the defect, and we'll straighten it out.
Damaged Product
Occasionally packages in transit can become damaged. Call us right away so we can set it straight.
Incorrect Product
If you've received an incorrect product, or if we've guaranteed fitment on your order, and the product does not fit your vehicle, give us a call at (800) 874-8888 and select option #2, and we'll start the return process for you.
Lost Package
If your tracking information says delivered, but you haven't received your package yet, let us know. We will work with the carrier to get to the bottom of it.
Do I have to pay for return shipping?
Returns happen, and we're here to make the experience easy! In most cases, you are responsible for return shipping, but we can offer you a discounted return shipping label. If your item arrived defective or we made a mistake, we will happily take care of the return shipping.