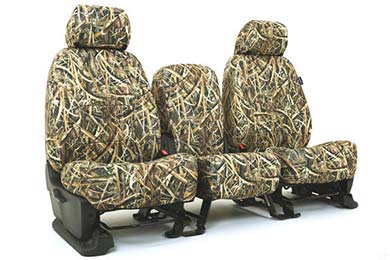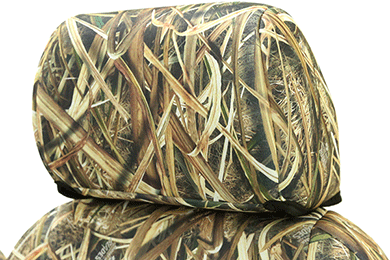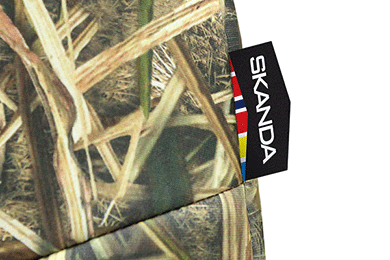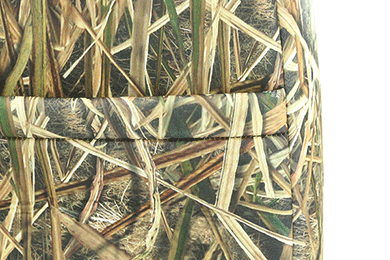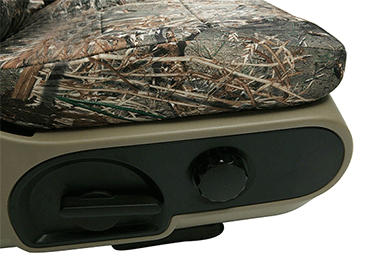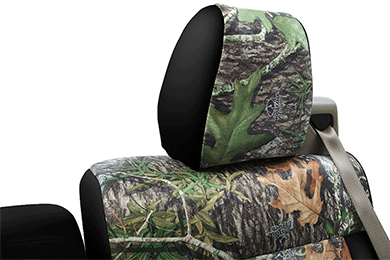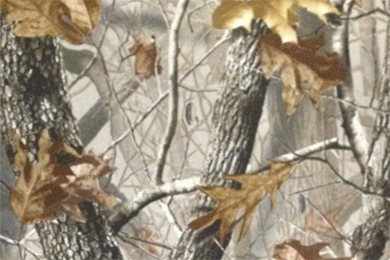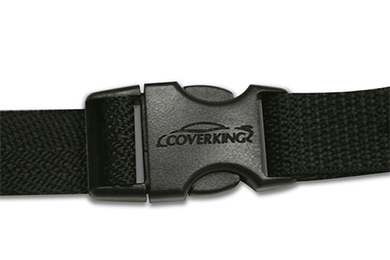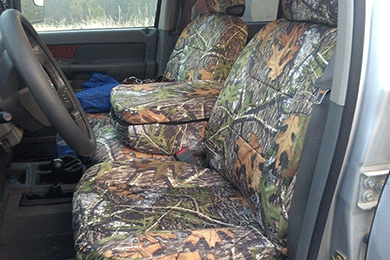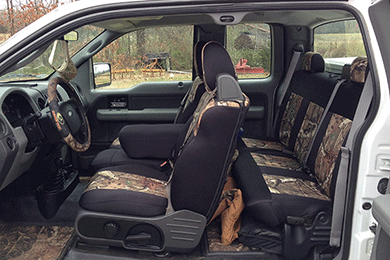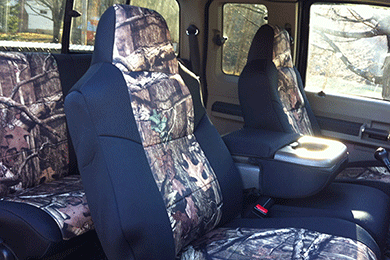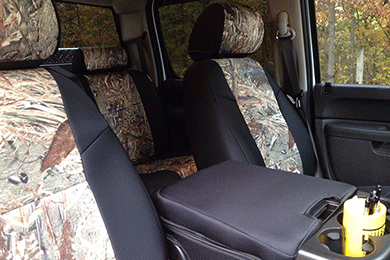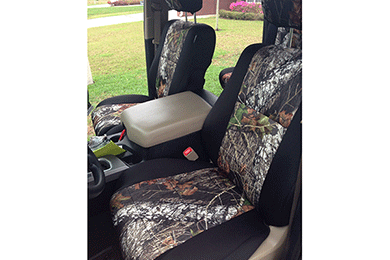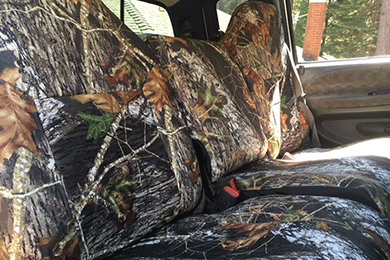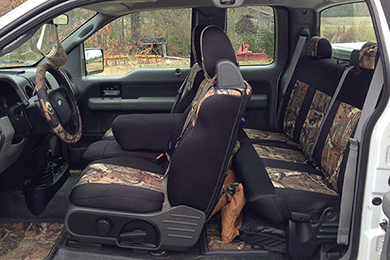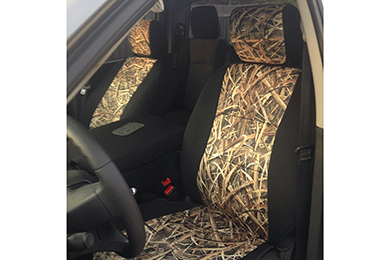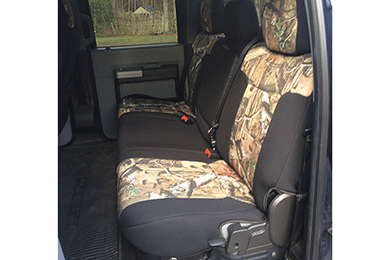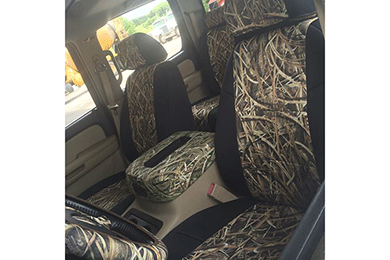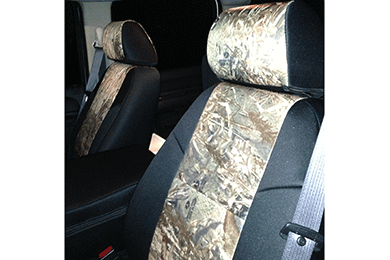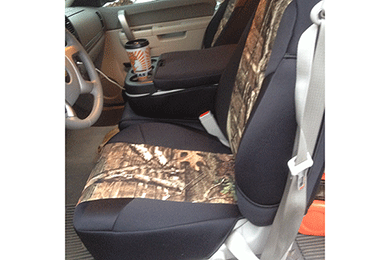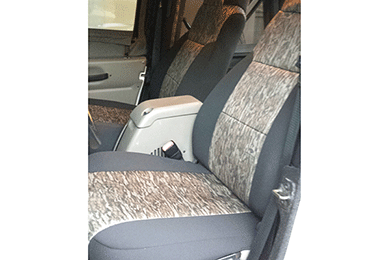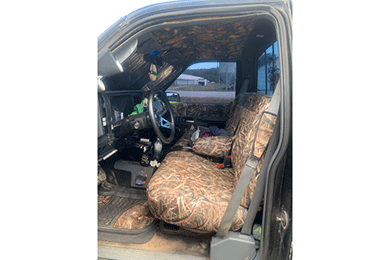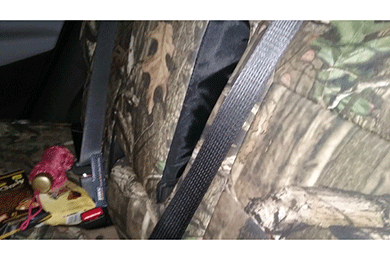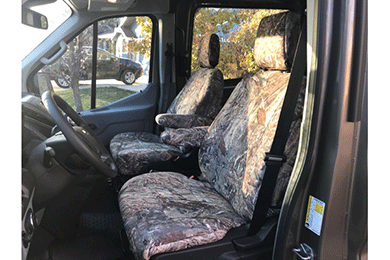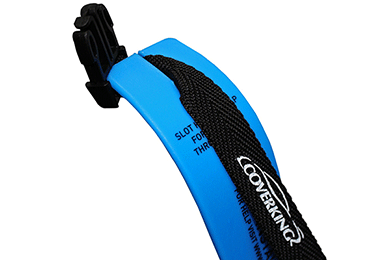 SECURE SHOPPING GUARANTEE
SKANDA Mossy Oak Camo Neosupreme Seat Covers By Coverking - Neoprene Seat Covers
Features
Blend right in from the deepest woods to the urban jungle with SKANDA Mossy Oak? Camo Neosupreme Seat Covers by Coverking
Available in a solid Mossy Oak? pattern or a trimmed Black/Mossy Oak? pattern for a personalized look
Soft and durable Neosupreme fabric is resistant to UV damage, stains, mildew and rot to completely protect your upholstery
Water resistances allows for easy cleaning - just spot clean and air dry
Made to order with a tight fit, these seat covers resist slippage even with the most rambunctious of passengers
Includes headrest, armrest, airbag cutouts and center console covers (depending on your vehicle)
For vehicles with more than one row, front row seat covers include deep map pockets for added storage
SKANDA custom camo seat covers come with a free installation kit, which includes a kevlar glove, installation tool, traction pad and safety glasses (a $19.99 value)
Your SKANDA Mossy Oak? Camo Neosupreme Seat Covers by Coverking are backed by a 2-year warranty
High-quality design makes for an easy installation with no tools required Seat cover installation instructions (PDF)
Description
You haven¡¯t eaten anything, and the sweat is beading on your brow ¨C your camouflage seat covers mean you¡¯re virtually invisible to nature, but you know you can¡¯t risk it. Just as you start to give up hope, you finally see it: a man walking back to his car with the keys in his hand. Your waiting has finally paid off; you¡¯re ready to strike for that long-awaited parking spot.

With your SKANDA Mossy Oak? Camo Neosupreme Seat Covers by Coverking, you¡¯ll blend right in with your surroundings from the deepest woods to the movie theater parking lot. That¡¯s thanks to the authentic Mossy Oak camo patterns, each as intricate and detailed as your favorite hunting spot. And despite sitting for hours waiting to strike, you¡¯ll feel as comfortable as an afternoon spent on a Lazy Boy.

Their soft and cushiony surface could pass for more expensive neoprene seat covers ¨C the stuff wetsuits are made of ¨C but without the high price that comes with neoprene seat covers. That way you can afford to splurge on those night vision goggles - or whatever else your heart desires. These 6mm thick neosupreme camo seat covers offer incredible water and stain resistance for your drivable hunting blind. And, if you have any unwanted spills of your stake-out snacks, you won¡¯t be sweating bullets; a simple wipe with some mild detergent will get rid of any stains on the surface while your stock upholstery stays clean and protected below.

Despite mimicking the body-tight fit of a wetsuit and the feel of neoprene seat covers, these Neosupreme covers install much easier. That¡¯s made even more simple when you use the supplied tool kit. Your custom-fit camo seat covers will slide on effortlessly without any awkward tugging or stretching. And because SKANDA seat covers are designed using advanced 3D scanning CAD technology, each cover is made for millimeter accuracy and they even have the same seam patterns as your original upholstery, all backed by a 2-year warranty.


Frequently Asked Questions
How long until I receive my seat covers?
Because the seat covers are made to order, lead times vary. Please input your specific submodel and select your material to view the estimated ship date.
What is the difference between Neoprene and Neosupreme seat covers?
Neoprene is a heavier duty, waterproof material that is commonly used to make wetsuits for surfers and scuba divers. Durable, breathable and stain resistant, SKANDA offers Custom Neoprene Seat Covers in several different camo variations. Neosupreme, on the other hand, is a lightweight, inexpensive alternative to Neoprene fabric that is a polyester blend. Neosupreme has similar characteristics, but is less water resistant, but considerably more affordable.
Do I have to remove my original fabric to install SKANDA RealTree Camo Neosupreme Seat Covers?
No, all SKANKDA seat covers fit directly over your seat's original fabric.
Do SKANDA Mossy Oak Camo Neosupreme Seat Covers come with map pockets sewn into the rear of the front seat covers?
Yes, SKANDA seat covers come with sewn in map pockets so you don't lose the functionality of rear storage.
What's the best way to clean and care for Neoprene and Neosupreme seat covers?
Spot cleaning while the seat covers are still installed offers the easiest and quickest form of maintenance. Do not machine wash. Wet suit shampoo can be purchased for neoprene and mild detergent may be used on neosupreme. Air dry to finish.
Notes
Manufacturer Info
Return Information
When you buy from AFA Motors, you can rest assured that you'll get the right part for your vehicle, or we'll make it right.
Free Return Shipping on Exchanges
We'll pay for the return shipping on exchanges for all orders (even gifts with proof of purchase).
Plus every purchase comes with our 1-year lower price guarantee and expert service from our team of Gearheads.
It's our commitment to you, exclusively from afa-motors.com.
Some restrictions apply. See terms below.
---
How to Return an Item
Step 1: Start a Return from Your Online Account
Please log in to your account. Locate and click on your order under Order History. Find the item you wish to return or exchange and click on Return Item to submit your request.
Step 2: Receive a Return Authorization Number (RMA#)
One of our customer care specialists will provide you with:
An RMA#
An email with detailed return shipping instructions
Step 3: Pack & Ship
Pack everything that came with the product using its original packaging.
Affix the return shipping label that we provided to the package. If we didn't provide you with a return shipping label, make sure to include the RMA# on the package.
Ship the package to the address specified in the email you received from Step 2.
Step 4: Receive Your Refund or Exchange
After we receive your package, we'll process your refund or exchange immediately. You can expect to see the refund, less any applicable restocking fees, credited within 5-7 business days, to the payment method that you used when you originally placed your order. If you selected an exchange, we will ship you replacement item out immediately.
Restocking Fees
All returns are subject to a 20% restocking fee.
We'll waive the restocking fees if we made a mistake or if the product was delivered defective.
We'll also waive the restocking fee if you decide to exchange your product with another purchase.
---
Frequently Asked Questions
Which products can be returned or exchanged?
Most products can be returned within 30 days of purchase, provided it is returned in original packaging and the items are in new and unused condition. We reserve the right to charge up to the full value of the product for items not received in this condition.
Products that cannot be returned or exchanged:
Some products, including, but not limited to, custom patterned and custom, and painted items are not returnable
Products that shipped via freight, typically oversized and heavy items.
Products that have been installed on your vehicle
Products that have been modified (drilled or altered in any way)
Under what conditions may I return an item?
Defective Product
While we pride ourselves in our partnerships with leading vendors, accidents happen. Call us at (800) 874-8888 option #2 once you've discovered the defect, and we'll straighten it out.
Damaged Product
Occasionally packages in transit can become damaged. Call us right away so we can set it straight.
Incorrect Product
If you've received an incorrect product, or if we've guaranteed fitment on your order, and the product does not fit your vehicle, give us a call at (800) 874-8888 and select option #2, and we'll start the return process for you.
Lost Package
If your tracking information says delivered, but you haven't received your package yet, let us know. We will work with the carrier to get to the bottom of it.
Do I have to pay for return shipping?
Returns happen, and we're here to make the experience easy! In most cases, you are responsible for return shipping, but we can offer you a discounted return shipping label. If your item arrived defective or we made a mistake, we will happily take care of the return shipping.