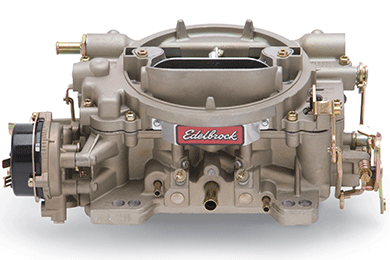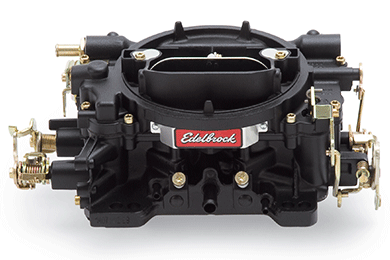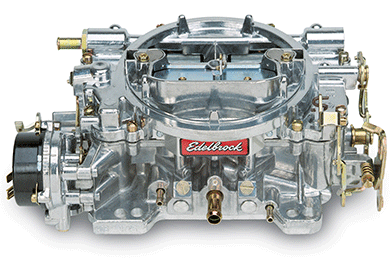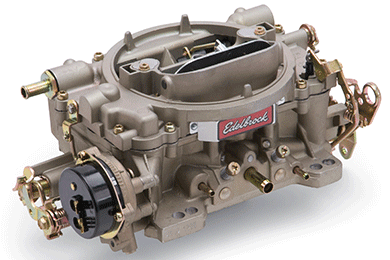 SECURE SHOPPING GUARANTEE
Edelbrock Performer Carb - Best Price & Free Shipping on Edelbrock Performer Series Carburetors - Satin, Black Powder Coat, Endurashine Finished Carbs
Features
Hook your Carb'd ride up correctly with our Carburetor Calculator.

Click here and plug in your engine info
Add and infusion of carbureted muscle to your ride with Edelbrock Performer Series Carburetors
Edelbrock carbs work right out of the box¡ªbolt ¡®em on and go
Delivers crisp throttle-response, incredible horsepower gains and unmatched reliability
Perfectly fits your spread-bore or square-bore intake manifold
Mechanical secondaries with a secondary air velocity valve provide a smooth power transition across the RPM range
High-quality precision-tuned components handle both highway and racetrack use with ease
Factory-set float level rarely, if ever, requires adjustments
Change jets, adjust floats and replace needles & seats without losing a drop of fuel in the process
Edelbrock carburetors hold a tune like no other carb¡ªset it and forget it
Two-piece design with all fuel below the gasket level for leak-free performance
Completely unaffected by engine backfires with no power valve to blow out
Pick up the optional single fuel inlet to simplify under-hood plumbing and add a clean look
Uses proven metering rods to transition between idle and power circuits
Made from warp-resistant and lightweight aluminum that¡¯s compatible with gasoline and blended fuels
Includes an installation and tuning DVD to get your ride on the road faster
Available in different CFMs to quench your monster motor
Choose from several tough finishes that resist corrosion and add style
Proudly made in the USA
Your Edelbrock Performer Series Carburetor is backed by a 90 day warranty
Description
Owners of carbureted rides and rigs have a start-up checklist each time they hop behind the wheel. Pump the gas twice, wait two seconds, crank the key and pray. Toss in a cold morning and your ride becomes an immovable object. If this sounds familiar, unbolt that clunky carb and replace it with an Edelbrock Performer Series Carburetor.

The whole point of a carburetor is to get air and atomized fuel into the engine in the right amounts. If your factory carb is leaking, corroded or was designed 50 years ago, it's time for a change. An upgrade you can feel, Edelbrock Performer carbs are designed to add power and reliability right out of the box. Each carburetor is built around a cast aluminum body with no gaskets below the fuel level for leak-free performance. And when jet changes and float adjustments are needed, the top of the carb can be popped off without spilling a bit of fuel.

As a matter of fact, Edelbrock carburetors have the reputation of holding adjustments rock-steady month after month, so you can leave that screwdriver set at home. And as if that's not enough, these rugged carburetors are completely unaffected by backfires thanks to their power valve-free design. Best of all, your Edelbrock Performer Series Carburetor is backed by a 90 Day warranty.
Notes
Not legal for sale or use on pollution controlled motor vehicles
ATTN: State of California Consumers
WARNING: This product can expose you to Zinc, which is known to the State of California to cause cancer and birth defects or other reproductive harm. (For more information go to www.p65warnings.ca.gov)
Manufacturer Info
Return Information
When you buy from AFA Motors, you can rest assured that you'll get the right part for your vehicle, or we'll make it right.
Free Return Shipping on Exchanges
We'll pay for the return shipping on exchanges for all orders (even gifts with proof of purchase).
Plus every purchase comes with our 1-year lower price guarantee and expert service from our team of Gearheads.
It's our commitment to you, exclusively from afa-motors.com.
Some restrictions apply. See terms below.
---
How to Return an Item
Step 1: Start a Return from Your Online Account
Please log in to your account. Locate and click on your order under Order History. Find the item you wish to return or exchange and click on Return Item to submit your request.
Step 2: Receive a Return Authorization Number (RMA#)
One of our customer care specialists will provide you with:
An RMA#
An email with detailed return shipping instructions
Step 3: Pack & Ship
Pack everything that came with the product using its original packaging.
Affix the return shipping label that we provided to the package. If we didn't provide you with a return shipping label, make sure to include the RMA# on the package.
Ship the package to the address specified in the email you received from Step 2.
Step 4: Receive Your Refund or Exchange
After we receive your package, we'll process your refund or exchange immediately. You can expect to see the refund, less any applicable restocking fees, credited within 5-7 business days, to the payment method that you used when you originally placed your order. If you selected an exchange, we will ship you replacement item out immediately.
Restocking Fees
All returns are subject to a 20% restocking fee.
We'll waive the restocking fees if we made a mistake or if the product was delivered defective.
We'll also waive the restocking fee if you decide to exchange your product with another purchase.
---
Frequently Asked Questions
Which products can be returned or exchanged?
Most products can be returned within 30 days of purchase, provided it is returned in original packaging and the items are in new and unused condition. We reserve the right to charge up to the full value of the product for items not received in this condition.
Products that cannot be returned or exchanged:
Some products, including, but not limited to, custom patterned and custom, and painted items are not returnable
Products that shipped via freight, typically oversized and heavy items.
Products that have been installed on your vehicle
Products that have been modified (drilled or altered in any way)
Under what conditions may I return an item?
Defective Product
While we pride ourselves in our partnerships with leading vendors, accidents happen. Call us at (800) 874-8888 option #2 once you've discovered the defect, and we'll straighten it out.
Damaged Product
Occasionally packages in transit can become damaged. Call us right away so we can set it straight.
Incorrect Product
If you've received an incorrect product, or if we've guaranteed fitment on your order, and the product does not fit your vehicle, give us a call at (800) 874-8888 and select option #2, and we'll start the return process for you.
Lost Package
If your tracking information says delivered, but you haven't received your package yet, let us know. We will work with the carrier to get to the bottom of it.
Do I have to pay for return shipping?
Returns happen, and we're here to make the experience easy! In most cases, you are responsible for return shipping, but we can offer you a discounted return shipping label. If your item arrived defective or we made a mistake, we will happily take care of the return shipping.