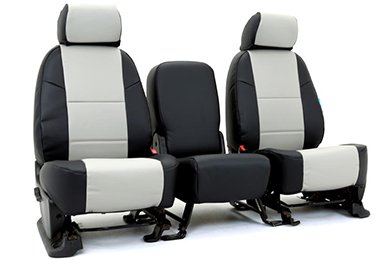 SECURE SHOPPING GUARANTEE
Coverking Leatherette Seat Covers - Leather Truck & Car Seat Covers
Features
Coverking Leatherette Seat Covers give you the rich look and feel of leather seat covers - without the price tag
Durable vinyl is a blend of military-grade polyester and high-quality Cordura, giving you a supple, soft-to-the touch feel
Fabric is resistant to UV damage, stains, mildew and rot, keeping your seats underneath looking factory fresh
Wide range of single or dual-tone colors give you a customized look
3D imaging and made-to-order sizing ensures a snug, slip-free fit based on your make, model and year
Console covers are included only for models where the console is built into the seat (does not include standard bucket seats)
Custom-fit armrest and headrest covers are included, when applicable
Included installation kit makes putting your seat covers on quick and painless
Your Coverking Leatherette Seat Covers are backed by a 3-year warranty
Description
From battle-worn buckets to hot-off-the-lot mint condition leather seats, covers from Coverking will protect your interior and keep you cruising footloose and fancy-free for years to come - even when you take a speed bump a little too fast and send that super-size Coke a-flying. These Coverking Leatherette Seat Covers treat your bum to the comfort of leather, your eyes to the sleek look of a luxury interior and your wallet to a price tag that leaves a little wiggle room for a few extra tanks of gas this weekend. All that while being water resistant and easy to clean. Can your neighbor¡¯s leather seat covers do that?

The secret sauce to your stylish new, 'are they, or aren¡¯t they leather' seat covers is leatherette - a strong vinyl material made out of a unique blend of military-grade polyester and cotton blend Cordura. Yes, we said military-grade. It¡¯s like sliding a second-skin layer on your seats that makes them resistant to UV damage, stains, mildew and rot.

Coverking Leatherette Seat Covers are ready to pull double duty when it comes to durable protection for your original upholstery and a pride-inducing, sleek look for your ride. Thanks to 3D imaging, each of Coverkings¡¯ car seat covers are made to order with a precision, slip-free fit that rivals the factory original. And they come complete with full seat functionality in all rows, covers for those headrests, armrests, consoles and convenient map pockets (depending on your vehicle). We know you know don¡¯t need a map, but it¡¯s there just in case - with a little extra room for snacks, pocket knives and other tools you want handy.

When we say only you won¡¯t know the difference between these leatherette car seat covers and the real deal, we mean it. They are soft and supple, yet rugged enough to handle daily wear and tear. So, roll up, pile in the troops - whether that¡¯s your buddies, carpooling coworkers or an actual troupe of Boy Scouts - and drive on with confidence, because these car seat covers were made to be used. To prove it, Coverking¡¯s got them covered with a 3-year warranty, too.


Frequently Asked Questions
How long until I receive my seat covers?
Because the seat covers are made to order, lead times vary. Please input your specific submodel and select your material to view the estimated ship date.
What is the difference between Leather and Leatherette seat covers?
Leatherette is a synthetic, non-animal based material designed to simulate the look and feel of leather. It's durable, easy to clean, and lower price point make it a desirable alternative to genuine leather.
Do I have to remove my original fabric to install Coverking Leatherette Seat Covers?
No, all Coverking seat covers fit directly over your seat's original fabric.
Do Coverking Leatherette Seat Covers come with map pockets sewn into the rear of the front seat covers?
Yes, Coverking seat covers come with sewn in map pockets so you don't lose the functionality of rear storage.
What's the best way to clean and care for Leatherette seat covers?
Spot cleaning while the seat covers are still installed offers the easiest and quickest form of maintenance. Do not machine wash leatherette. Most vinyl cleaners and protectors are suitable to be used with a moist cloth.
Notes
Based on your monitor settings, colors viewed on this or any website may not appear as intended. If you¡¯re uncertain about a product¡¯s color, feel free to call us and we¡¯ll be happy to assist you.
ATTN: State of California Consumers
WARNING: Cancer and Reproductive Harm (www.p65warnings.ca.gov)
Manufacturer Info
Return Information
When you buy from AFA Motors, you can rest assured that you'll get the right part for your vehicle, or we'll make it right.
Free Return Shipping on Exchanges
We'll pay for the return shipping on exchanges for all orders (even gifts with proof of purchase).
Plus every purchase comes with our 1-year lower price guarantee and expert service from our team of Gearheads.
It's our commitment to you, exclusively from afa-motors.com.
Some restrictions apply. See terms below.
---
How to Return an Item
Step 1: Start a Return from Your Online Account
Please log in to your account. Locate and click on your order under Order History. Find the item you wish to return or exchange and click on Return Item to submit your request.
Step 2: Receive a Return Authorization Number (RMA#)
One of our customer care specialists will provide you with:
An RMA#
An email with detailed return shipping instructions
Step 3: Pack & Ship
Pack everything that came with the product using its original packaging.
Affix the return shipping label that we provided to the package. If we didn't provide you with a return shipping label, make sure to include the RMA# on the package.
Ship the package to the address specified in the email you received from Step 2.
Step 4: Receive Your Refund or Exchange
After we receive your package, we'll process your refund or exchange immediately. You can expect to see the refund, less any applicable restocking fees, credited within 5-7 business days, to the payment method that you used when you originally placed your order. If you selected an exchange, we will ship you replacement item out immediately.
Restocking Fees
All returns are subject to a 20% restocking fee.
We'll waive the restocking fees if we made a mistake or if the product was delivered defective.
We'll also waive the restocking fee if you decide to exchange your product with another purchase.
---
Frequently Asked Questions
Which products can be returned or exchanged?
Most products can be returned within 30 days of purchase, provided it is returned in original packaging and the items are in new and unused condition. We reserve the right to charge up to the full value of the product for items not received in this condition.
Products that cannot be returned or exchanged:
Some products, including, but not limited to, custom patterned and custom, and painted items are not returnable
Products that shipped via freight, typically oversized and heavy items.
Products that have been installed on your vehicle
Products that have been modified (drilled or altered in any way)
Under what conditions may I return an item?
Defective Product
While we pride ourselves in our partnerships with leading vendors, accidents happen. Call us at (800) 874-8888 option #2 once you've discovered the defect, and we'll straighten it out.
Damaged Product
Occasionally packages in transit can become damaged. Call us right away so we can set it straight.
Incorrect Product
If you've received an incorrect product, or if we've guaranteed fitment on your order, and the product does not fit your vehicle, give us a call at (800) 874-8888 and select option #2, and we'll start the return process for you.
Lost Package
If your tracking information says delivered, but you haven't received your package yet, let us know. We will work with the carrier to get to the bottom of it.
Do I have to pay for return shipping?
Returns happen, and we're here to make the experience easy! In most cases, you are responsible for return shipping, but we can offer you a discounted return shipping label. If your item arrived defective or we made a mistake, we will happily take care of the return shipping.