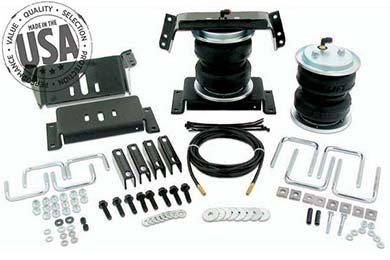 SECURE SHOPPING GUARANTEE
Air Lift Air Bags - Truck Air Ride Suspension - #1 Price & FREE SHIPPING!
Features
Tow to your vehicle's limit without sacrificing ride quality with the ingenious Air Lift Air Bag Suspension Kit
Air Lift springs eliminate major towing issues; including vehicle squat, swaying, and bouncing. They provide vehicle leveling, safety, and a smooth, comfortable ride.
This fully adjustable air bag system lets you fine-tune the firmness of your suspension: add more air when you're towing or hauling, and let it out when you're commuting
Adjust both sides evenly, or bolster one side when you have an off-center load
The Air Lift Level System comes in five styles, depending on your vehicle:
¨CAir Lift 1000: mounts inside your front or rear coil springs¡ªyou get extra rear support when towing or fully loaded, greater handling, and massive back-wheel traction. Up to 1000 lbs of leveling capacity
¨CRide Control: connects to your light-duty pickup, medium-duty truck or SUV's leaf springs-delivers the perfect balance of smooth ride quality and sturdy support for towing and hauling. Up to 2000 lbs of leveling capacity
¨CLoadLifter 5000: these extreme-duty air bags mount to your full-sized truck or SUV's leaf springs-you get massive support for your heaviest loads. Shoulders up to 5000 lbs of leveling capacity
¨CLoadLifter 5000 Ultimate:All the benefits of the LoadLifter 5000 with the added benefit of internal jounce bumpers inside, for a smoother and maintenance-free ride. The internal jounce bumber enables safe driving even with zero air pressure.
¨CLoadLifter 7500 XL: Provides 20% more air spring volume than LoadLifter 500 air springs and is designed to carry the largest loads on the road, offering up to 7500 lbs of load-leveling capacity. Compatible with 3/4- and 1-ton trucks.
For on-the-fly adjustments of your Air Lift Leveling System, upgrade with an optional Air Lift On Board Air Control System (See Related Product above)
The air bags in your Air Lift Leveling System are built with superior, reinforced natural rubber or tough, molded polyurethane
The polymer air fittings are easy to connect, leak-free and non-corrosive
LoadLifter 7500 XL Air Suspension Kit provides upper and lower roll plates to protect air springs from abrasion and end caps are corrosion-proof for enhanced durability
Your Air Lift Leveling System comes with everything you need: air bags, brackets, hardware, air lines, alignment tool (when needed), and detailed installation instructions
Lifetime Warranty
Description
The holy grail of suspension technology is the perfect blend of ride comfort and load hauling capacity. In the past, auto builders had to choose one over the other. Today, with the Air Lift Air Bag Suspension Kit, you get the best of both worlds-a smooth ride and plenty of backbone to haul the heaviest loads.

The secret behind the Air Lift Air Bag Suspension Kit is simple: you control the firmness of the air bags. When you're fully loaded or towing a trailer, fill them full of air to do away with sag, sway, bottoming out, roll and more. For everyday commuting, keep them deflated for a downy soft ride. Dragsters can also use the Air Lift Leveling System for greater rear-wheel traction at the speedway. With an Air Lift On Board Air Control System, you can even make on-the-fly adjustments as road conditions change.

The Air Lift Air Bag Suspension Kit is custom-made from rugged materials for your coil over or leaf spring suspension. Most installations don't even require drilling, and all include a Lifetime Warranty.

Notes
Manufacturer Info
Return Information
When you buy from AFA Motors, you can rest assured that you'll get the right part for your vehicle, or we'll make it right.
Free Return Shipping on Exchanges
We'll pay for the return shipping on exchanges for all orders (even gifts with proof of purchase).
Plus every purchase comes with our 1-year lower price guarantee and expert service from our team of Gearheads.
It's our commitment to you, exclusively from afa-motors.com.
Some restrictions apply. See terms below.
---
How to Return an Item
Step 1: Start a Return from Your Online Account
Please log in to your account. Locate and click on your order under Order History. Find the item you wish to return or exchange and click on Return Item to submit your request.
Step 2: Receive a Return Authorization Number (RMA#)
One of our customer care specialists will provide you with:
An RMA#
An email with detailed return shipping instructions
Step 3: Pack & Ship
Pack everything that came with the product using its original packaging.
Affix the return shipping label that we provided to the package. If we didn't provide you with a return shipping label, make sure to include the RMA# on the package.
Ship the package to the address specified in the email you received from Step 2.
Step 4: Receive Your Refund or Exchange
After we receive your package, we'll process your refund or exchange immediately. You can expect to see the refund, less any applicable restocking fees, credited within 5-7 business days, to the payment method that you used when you originally placed your order. If you selected an exchange, we will ship you replacement item out immediately.
Restocking Fees
All returns are subject to a 20% restocking fee.
We'll waive the restocking fees if we made a mistake or if the product was delivered defective.
We'll also waive the restocking fee if you decide to exchange your product with another purchase.
---
Frequently Asked Questions
Which products can be returned or exchanged?
Most products can be returned within 30 days of purchase, provided it is returned in original packaging and the items are in new and unused condition. We reserve the right to charge up to the full value of the product for items not received in this condition.
Products that cannot be returned or exchanged:
Some products, including, but not limited to, custom patterned and custom, and painted items are not returnable
Products that shipped via freight, typically oversized and heavy items.
Products that have been installed on your vehicle
Products that have been modified (drilled or altered in any way)
Under what conditions may I return an item?
Defective Product
While we pride ourselves in our partnerships with leading vendors, accidents happen. Call us at (800) 874-8888 option #2 once you've discovered the defect, and we'll straighten it out.
Damaged Product
Occasionally packages in transit can become damaged. Call us right away so we can set it straight.
Incorrect Product
If you've received an incorrect product, or if we've guaranteed fitment on your order, and the product does not fit your vehicle, give us a call at (800) 874-8888 and select option #2, and we'll start the return process for you.
Lost Package
If your tracking information says delivered, but you haven't received your package yet, let us know. We will work with the carrier to get to the bottom of it.
Do I have to pay for return shipping?
Returns happen, and we're here to make the experience easy! In most cases, you are responsible for return shipping, but we can offer you a discounted return shipping label. If your item arrived defective or we made a mistake, we will happily take care of the return shipping.