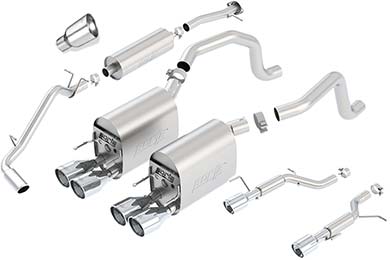 SECURE SHOPPING GUARANTEE
Borla Exhaust - Borla Cat Back Exhaust System - Borla Mufflers (Good Reviews & Free Shipping) AutoAnything
Features
Choose from up to four signature Borla Exhaust Series (depending on your vehicle):
Touring Series:The Touring series provides a deep, throaty sound that is slightly louder than stock at open throttle. Perfect for those who prefer a great sounding exhaust but also don¡¯t want their cruising disrupted.
S-Type Series: Opening up your exhaust to make your engine more efficient and freeflowing; the S-Type Series boasts a quality of performance oriented sound. This system will allow your car to be more aggressive but still allow you to cope with your normal spirited day to day driving.
ATAKSeries:When you love to go full throttle and hear that exhaust pour through the city, Borla¡¯s exclusive ATAK technology is calibrated on a vehicle-by vehicle basis for the most aggressive, desirable sound imaginable all while also being free flowing and non-restrictive.
Multicore Series:Mellower than the S-Type, but boasting a distinct growl, the Multicore series optimizes the aggressive sound you love and provides you solid performance gains
Custom designed for your specific vehicle to generate maximum performance
Crafted entirely from aerospace-grade T-304 stainless steel for corrosion-resistance to ensure your exhaust won¡¯t rust
Mandrel bent tubing eliminates kinks, blockages and excessive back-pressure to keep the pipes free-flowing
Bolster horsepower and torque in addition to improving fuel economy
Kits incorporate Borla's patented multi-core and straight-through muffler designs
Installs directly to your vehicle¡¯s factory-exhaust mounting locations
Include the required clamps, connectors and hardware
Street legal in all 50 states
Your Borla Exhaust System is extensively tuned and tested and backed by a Million-Mile Warranty
Description
Don¡¯t settle for blending in with the crowd. Help your vehicle stand-out for its performance and sound by installing a Borla Exhaust System. Custom designed for maximum power in your specific vehicle ¨C bolstering horsepower and torque in addition to improving fuel economy ¨C these top-of-the-line exhausts incorporate Borla¡¯s patented multi-core and straight-through muffler designs.

Choose from four distinct series ¨C the Touring provides a deep, throaty sound that¡¯s slightly louder than stock at open throttle, the S-Type delivers an aggressive sound whenever you squeeze the throttle that is sure to capture attention, Borla¡¯s innovative ATAK series delivers the most aggressive sound of all or the Multicore that generates solid performance gains with a mellower, but aggressive distinct growl.

All Borla exhausts and constructed entirely from aerospace-grade T-304 stainless steel to resist corrosion and eliminate rust and feature mandrel bent tubing to keep the pipes free-flowing and ensuring kinks, blockages and excessive back-pressure are a thing of the past. Street legal in all 50 states, your new Borla Exhaust System includes all the required clamps, connectors and hardware needed for a hassle-free installation and the support of a Million-Mile Warranty.

Thanks to the Magnuson Moss Warranty Act: US Code ¨C Title 15, Chapter 50, Sections 2301-2312, your vehicle¡¯s factory warranty is protected by law when you add aftermarket parts. Details
Manufacturer Info
Return Information
When you buy from AFA Motors, you can rest assured that you'll get the right part for your vehicle, or we'll make it right.
Free Return Shipping on Exchanges
We'll pay for the return shipping on exchanges for all orders (even gifts with proof of purchase).
Plus every purchase comes with our 1-year lower price guarantee and expert service from our team of Gearheads.
It's our commitment to you, exclusively from afa-motors.com.
Some restrictions apply. See terms below.
---
How to Return an Item
Step 1: Start a Return from Your Online Account
Please log in to your account. Locate and click on your order under Order History. Find the item you wish to return or exchange and click on Return Item to submit your request.
Step 2: Receive a Return Authorization Number (RMA#)
One of our customer care specialists will provide you with:
An RMA#
An email with detailed return shipping instructions
Step 3: Pack & Ship
Pack everything that came with the product using its original packaging.
Affix the return shipping label that we provided to the package. If we didn't provide you with a return shipping label, make sure to include the RMA# on the package.
Ship the package to the address specified in the email you received from Step 2.
Step 4: Receive Your Refund or Exchange
After we receive your package, we'll process your refund or exchange immediately. You can expect to see the refund, less any applicable restocking fees, credited within 5-7 business days, to the payment method that you used when you originally placed your order. If you selected an exchange, we will ship you replacement item out immediately.
Restocking Fees
All returns are subject to a 20% restocking fee.
We'll waive the restocking fees if we made a mistake or if the product was delivered defective.
We'll also waive the restocking fee if you decide to exchange your product with another purchase.
---
Frequently Asked Questions
Which products can be returned or exchanged?
Most products can be returned within 30 days of purchase, provided it is returned in original packaging and the items are in new and unused condition. We reserve the right to charge up to the full value of the product for items not received in this condition.
Products that cannot be returned or exchanged:
Some products, including, but not limited to, custom patterned and custom, and painted items are not returnable
Products that shipped via freight, typically oversized and heavy items.
Products that have been installed on your vehicle
Products that have been modified (drilled or altered in any way)
Under what conditions may I return an item?
Defective Product
While we pride ourselves in our partnerships with leading vendors, accidents happen. Call us at (800) 874-8888 option #2 once you've discovered the defect, and we'll straighten it out.
Damaged Product
Occasionally packages in transit can become damaged. Call us right away so we can set it straight.
Incorrect Product
If you've received an incorrect product, or if we've guaranteed fitment on your order, and the product does not fit your vehicle, give us a call at (800) 874-8888 and select option #2, and we'll start the return process for you.
Lost Package
If your tracking information says delivered, but you haven't received your package yet, let us know. We will work with the carrier to get to the bottom of it.
Do I have to pay for return shipping?
Returns happen, and we're here to make the experience easy! In most cases, you are responsible for return shipping, but we can offer you a discounted return shipping label. If your item arrived defective or we made a mistake, we will happily take care of the return shipping.