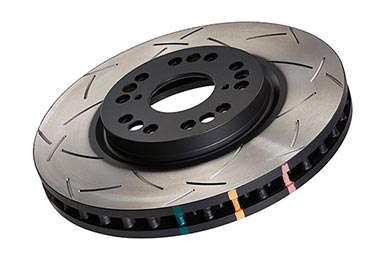 SECURE SHOPPING GUARANTEE
DBA Rotors - T3, T5, 4000, 4000XS, 4x4, 5000, 5000XS, Gold - Free Shipping!
Features
Custom-built to stop your specific make, model and year vehicle
Perfect brake enhancement for passenger, 4WD/SUV and motorsport vehicles
Boast DBA's patented 'Kangaroo Paw' ventilation system for faster cooling and increased strength
Thermo Stability Profiling allows the rotors to take more heat¡ªlonger disc and pad life; delayed brake fade
Thermo-Graphic heat paint markings change color at specific temperature thresholds for quick and easy rotor monitoring
For select trucks and SUVs, DBA makes special 4x4 Survival Series Rotors that are perfect for towing, off-roading, motorsports and everyday street driving
No mechanical changes or adaptors are necessary to install rotors
Rotors are sold individually, be sure to verify the quantity you need
Your DBA Rotors are backed by a 12-month, 12,000-mile warranty

T3 4000 Series Rotors:
¨CDirectly replace your stock rotors
¨CCarved with tri-symmetrical slots for enhanced braking, above track-approved DBA T2 Rotors
¨CForged from XG150 high-carbon alloyed iron for improved thermal capabilities

T2 Slotted Rotors:
¨CBuilt with DBA's smart T2 bi-symmetrical curved slots that cut vibration for quieter, stronger and smoother braking
¨CCurved slots help reduce uneven pad wear and protect against glazing
¨CNon-directional slotting for use on left or right side of your ride

4000 Series Rotors:
¨CMid-series high-performance for street or track driving
¨C6x6 directional wiper-slot face maintains consistent brake friction for a cleaner rotor surface
¨CFriction gases and debris are rapidly expelled by the 6x6 wiper-slot rotor face

4000XS Series Rotors:
¨CSpecifically designed for performance street driving
¨CCross-drilled and slotted face expels friction gases, debris and water

Gold Series Rotors:
¨CCross-drilled and slotted rotor face improves pad bite and reduces brake fade in all braking situations
¨CGold paint provides excellent corrosion resistance and sweet looks

T3 5000 Series Rotors:
¨CTwo-piece rotor designed with XG150 high-carbon alloyed iron rotor surfaces and aircraft-grade aluminum hubs
¨CThe reusable hubs detach when you need to replace the rotor surface
¨CTri-symmetrical slots offer strong, smooth and quiet braking, above track-approved DBA T2 Rotors

5000XS Series Rotors:
¨CTwo-piece, high-performance rotors are designed for street use
¨CResist distortion by allowing discs to expand uniformly during heavy use
¨CReusable Alumalite hats are built from high-strength, aerospace-grade T6 aluminum
¨CCross-drilled and slotted faces rapidly expel hot friction gases, debris and water
¨CHats available in 4 anodized colors: Gold, Black, Red and Blue

Description
Scrub the speed off your street machine or race car with the iron grip provided by Disc Brakes Australia Rotors. These performance discs deliver a serious upgrade to any braking system on the road or the track. Featuring T3 4000 Series Rotors, T2 Slotted Rotors, Gold Series Rotors and more, they maintain constant friction for a cleaner disc surface and less fade.

Thermo-Graphic heat paint is marked on the edge of each rotor. The colors change to signify temperature thresholds, making quick work of monitoring rotor temps. Rotors also feature DBA's Thermo Stability Profiling which handles the higher temperatures that result from spirited driving.

To keep your rotors cooler than a can of Fosters, DBA uses a 'Kangaroo Paw' vent design. The vents work like an air impeller to quickly extract the hot air. It also produces a rotor that's 20% more efficient than traditionally vented discs. And best of all, DBA backs your rotors with a 12-month, 12,000-mile warranty.
Notes
Kangaroo Paw venting is not available on all part numbers.
Rotors should always be replaced in pairs (front or back). Replacing a single rotor leads to uneven pad wear, steering pull, and ultimately, costly damage. Single rotor replacement is highly discouraged.
Thanks to the Magnuson Moss Warranty Act: US Code ¨C Title 15, Chapter 50, Sections 2301-2312, your vehicle¡¯s factory warranty is protected by law when you add aftermarket parts. Details
Manufacturer Info
Return Information
When you buy from AFA Motors, you can rest assured that you'll get the right part for your vehicle, or we'll make it right.
Free Return Shipping on Exchanges
We'll pay for the return shipping on exchanges for all orders (even gifts with proof of purchase).
Plus every purchase comes with our 1-year lower price guarantee and expert service from our team of Gearheads.
It's our commitment to you, exclusively from afa-motors.com.
Some restrictions apply. See terms below.
---
How to Return an Item
Step 1: Start a Return from Your Online Account
Please log in to your account. Locate and click on your order under Order History. Find the item you wish to return or exchange and click on Return Item to submit your request.
Step 2: Receive a Return Authorization Number (RMA#)
One of our customer care specialists will provide you with:
An RMA#
An email with detailed return shipping instructions
Step 3: Pack & Ship
Pack everything that came with the product using its original packaging.
Affix the return shipping label that we provided to the package. If we didn't provide you with a return shipping label, make sure to include the RMA# on the package.
Ship the package to the address specified in the email you received from Step 2.
Step 4: Receive Your Refund or Exchange
After we receive your package, we'll process your refund or exchange immediately. You can expect to see the refund, less any applicable restocking fees, credited within 5-7 business days, to the payment method that you used when you originally placed your order. If you selected an exchange, we will ship you replacement item out immediately.
Restocking Fees
All returns are subject to a 20% restocking fee.
We'll waive the restocking fees if we made a mistake or if the product was delivered defective.
We'll also waive the restocking fee if you decide to exchange your product with another purchase.
---
Frequently Asked Questions
Which products can be returned or exchanged?
Most products can be returned within 30 days of purchase, provided it is returned in original packaging and the items are in new and unused condition. We reserve the right to charge up to the full value of the product for items not received in this condition.
Products that cannot be returned or exchanged:
Some products, including, but not limited to, custom patterned and custom, and painted items are not returnable
Products that shipped via freight, typically oversized and heavy items.
Products that have been installed on your vehicle
Products that have been modified (drilled or altered in any way)
Under what conditions may I return an item?
Defective Product
While we pride ourselves in our partnerships with leading vendors, accidents happen. Call us at (800) 874-8888 option #2 once you've discovered the defect, and we'll straighten it out.
Damaged Product
Occasionally packages in transit can become damaged. Call us right away so we can set it straight.
Incorrect Product
If you've received an incorrect product, or if we've guaranteed fitment on your order, and the product does not fit your vehicle, give us a call at (800) 874-8888 and select option #2, and we'll start the return process for you.
Lost Package
If your tracking information says delivered, but you haven't received your package yet, let us know. We will work with the carrier to get to the bottom of it.
Do I have to pay for return shipping?
Returns happen, and we're here to make the experience easy! In most cases, you are responsible for return shipping, but we can offer you a discounted return shipping label. If your item arrived defective or we made a mistake, we will happily take care of the return shipping.