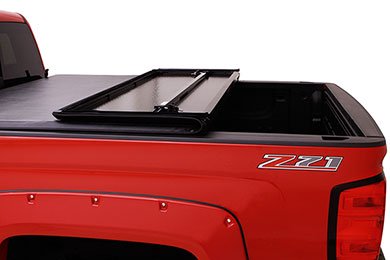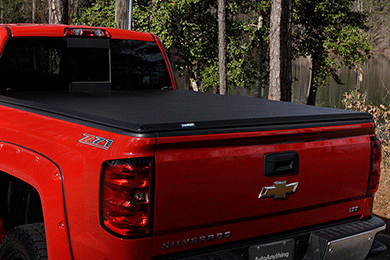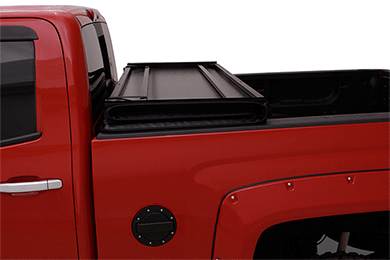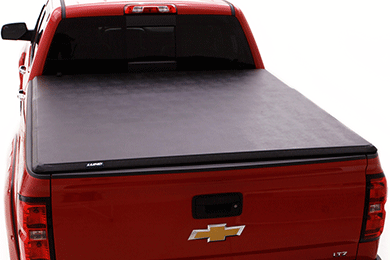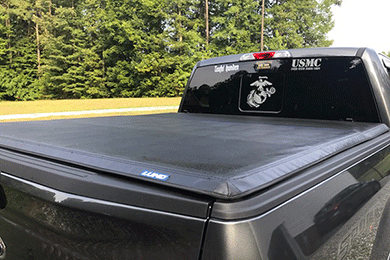 SECURE SHOPPING GUARANTEE
Lund Hard Fold Tonneau Cover - Folding Truck Bed Cover
Features
Outfit your rig with premium style and lasting performance with a Lund Hard Fold Tonneau Cover
Latches mount securely to underside channel of truck bed
Covered with double-sided, tear-resistant, highest marine-grade black vinyl for increased weather protection
Easy-lock handles offer instant cargo access ¨C just unclamp the spring-loaded handles and fold the cover forward
Impact-resistant 6063 aluminum panels ensure security and strength
Scuff and dent-proof panels can shoulder up to 350 lbs (evenly distributed)
Durable nylon straps hold the cover open to make room for oversized cargo
This hard tonneau cover installs in less than 10 minutes with an easy-to-secure clamping system ¨C no drilling required
Your Lund Hard Fold Tonneau Cover is backed by a Limited Lifetime Warranty
Description
With a completely aluminum underbody and the ability to change shape instantly, the Lund Hard Fold tonneau cover is like the T-1000 terminator - except with all the utility and none of the glamorous bloodlust. When the machines finally rise against us, be sure you have a quality folding tonneau cover to protect your precious cargo from danger.

It may not be able to morph into a policeman at short notice, but this Lund folding tonneau cover is the perfect hard tonneau cover to protect your cargo while giving you more access to your truck bed for those times you¡¯re hauling bigger gear. It¡¯s even been fitted with handy nylon straps to lock it into its folded position while you¡¯re getting from point A to B. No confusing gadgets and unnecessary add-ons, just good ol¡¯ physical functionality.

The 6063 dent-proof panels on the Lund Hard Fold Tonneau Cover provide ultimate rigidity and security for your cargo whether it¡¯s stored on top or underneath. And this Lund tonneau cover is solid enough to handle an incredible 350lbs of evenly distributed weight on top ¨C which is more than enough to deal with a battle-ready Arnold Schwarzenegger clinging on the back during a chase scene with you at the wheel.

You may not be getting pursued by helicopters with machine guns blazing, but if you¡¯re being targeted by particularly sinister-looking rain clouds or the sideways glances of some would-be thieves, you can trust in the marine-grade and tear-resistant vinyl that wraps the aluminum panels of your hard tonneau cover.

When you¡¯re aiding the human resistance you don¡¯t want to be held back by difficult and confusing latching systems ¨C this Lund tonneau cover features easy-lock handles that offer simple and easy access, keeping your cover locked down and secured while you¡¯re driving. In contrast to the complexity of the T-1000, this Lund tonneau cover is super simple ¨C it can even be installed within 10 minutes! And simplicity in this situation is definitely a good thing.

You can say 'hasta la vista, baby' to your power tools, too (at least for this job). Because your new folding tonneau cover comes fully assembled straight out of the box and attaches to your truck without needing to drill any holes or lift any tools. Finally, it¡¯s all backed by a Limited Lifetime Warranty by one of the biggest names in the truck accessories business.
Manufacturer Info
Return Information
When you buy from AFA Motors, you can rest assured that you'll get the right part for your vehicle, or we'll make it right.
Free Return Shipping on Exchanges
We'll pay for the return shipping on exchanges for all orders (even gifts with proof of purchase).
Plus every purchase comes with our 1-year lower price guarantee and expert service from our team of Gearheads.
It's our commitment to you, exclusively from afa-motors.com.
Some restrictions apply. See terms below.
---
How to Return an Item
Step 1: Start a Return from Your Online Account
Please log in to your account. Locate and click on your order under Order History. Find the item you wish to return or exchange and click on Return Item to submit your request.
Step 2: Receive a Return Authorization Number (RMA#)
One of our customer care specialists will provide you with:
An RMA#
An email with detailed return shipping instructions
Step 3: Pack & Ship
Pack everything that came with the product using its original packaging.
Affix the return shipping label that we provided to the package. If we didn't provide you with a return shipping label, make sure to include the RMA# on the package.
Ship the package to the address specified in the email you received from Step 2.
Step 4: Receive Your Refund or Exchange
After we receive your package, we'll process your refund or exchange immediately. You can expect to see the refund, less any applicable restocking fees, credited within 5-7 business days, to the payment method that you used when you originally placed your order. If you selected an exchange, we will ship you replacement item out immediately.
Restocking Fees
All returns are subject to a 20% restocking fee.
We'll waive the restocking fees if we made a mistake or if the product was delivered defective.
We'll also waive the restocking fee if you decide to exchange your product with another purchase.
---
Frequently Asked Questions
Which products can be returned or exchanged?
Most products can be returned within 30 days of purchase, provided it is returned in original packaging and the items are in new and unused condition. We reserve the right to charge up to the full value of the product for items not received in this condition.
Products that cannot be returned or exchanged:
Some products, including, but not limited to, custom patterned and custom, and painted items are not returnable
Products that shipped via freight, typically oversized and heavy items.
Products that have been installed on your vehicle
Products that have been modified (drilled or altered in any way)
Under what conditions may I return an item?
Defective Product
While we pride ourselves in our partnerships with leading vendors, accidents happen. Call us at (800) 874-8888 option #2 once you've discovered the defect, and we'll straighten it out.
Damaged Product
Occasionally packages in transit can become damaged. Call us right away so we can set it straight.
Incorrect Product
If you've received an incorrect product, or if we've guaranteed fitment on your order, and the product does not fit your vehicle, give us a call at (800) 874-8888 and select option #2, and we'll start the return process for you.
Lost Package
If your tracking information says delivered, but you haven't received your package yet, let us know. We will work with the carrier to get to the bottom of it.
Do I have to pay for return shipping?
Returns happen, and we're here to make the experience easy! In most cases, you are responsible for return shipping, but we can offer you a discounted return shipping label. If your item arrived defective or we made a mistake, we will happily take care of the return shipping.