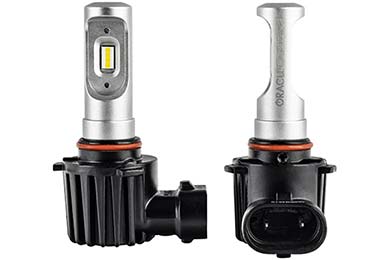 SECURE SHOPPING GUARANTEE
Oracle V Series LED Headlight Conversion Kit - DOT Compliant LED Headlights
Features
ONLY DOT Compliant ¡°Street Legal¡± LED Headlight Conversion Available.
FIRST 6-Volt Daytime Running Light Compatible LED Bulb Available.
LED Bulb features Precision Filament Geometry for no-Glare Illumination.
No Fan, Head-Sink, or other obstructing/ cumbersome cooling system.
Physically matches original bulb for OEM fitment and easy DIY installation.
Color temp: 6000K
Input Voltage: 6-32V DC
Daytime Running Light Compatible: YES
Power Draw: 17W/ Bulb
Lumens: 3,600 Lumens per set (1,600 per bulb)
Efficacy: >100lm/W*
Warranty: 1 year limited
Description
Latest LED Technology- The V-Series bulbs feature fcCSP Flip-Chip Scale LED Packaging. The advantages of flip-chip technology are multiple: it provides enhanced electrical performance over standard wirebond technology, allows for a smaller form factor due to increased routing density, and eliminates wire-bond loops. What does this mean for you? An ultra-luminous and extremely efficient light output with superior durability and reliability.

Latest Bulb Design- This new all-in-one diecast body design mimics the look of the original factory halogen bulb. This allows for easy installation without any additional wiring or external drivers. The die-cast design also provides increased thermal conductivity and heat dissipation to insure long bulb life.

DRL Compatibility- V-Series LED bulbs offer even more compatibility by working with vehicles that use the headlight bulb for the DRL function at a reduced voltage. The class-leading 6-32V ultra-wide range voltage protection will allow these LED bulbs to be used in Daytime Running Light Applications without common flicker issues. The V-Series bulb will dim to 50% brightness in DRL mode just like the factory halogen bulb.

SmartDrive? Active Thermal Regulation- Until now LED Headlight bulbs have relied on passive thermal management systems such as large heat sinks, metal ribbons, or loud cooling fans. These methods can be unreliable and almost always make the installation process more difficult and time consuming for the installer.

ORACLE Lighting¡¯s new V-Series bulbs feature our SmartDrive? Active Thermal Regulation (ATR) temperature management. The integrated constant current linear LED driver inside the bulb uses a system called ¡°thermal foldback¡± to protect the LEDs and the bulb components.

The LED driver operates from a 6V to 24V input and offers constant current output at up to 1 Amp. If the bulb becomes hot and surpasses optimal working temperature, the driver can reduce the current by altering the PWM duty cycle until temperature stabilizes. Supplementing passive thermal management with active techniques such as this allow for a very small bulb package without risking damage to the LED or creating an environment where the LED lifetime would otherwise be significantly shortened. Although reducing the current reduces luminosity, the current reduction is minimal and such that the change in luminosity is below the threshold that a consumer can detect. Fortunately, the human eye is poor at detecting luminosity changes in high-brightness devices so there is reasonable flexibility in the balance between controlling temperature and noticeably compromising luminosity.
Notes
For some VW, BMW, Mercedes, KIA, and Mazda vehicles a 'H7 Adapter' may need to be purchased for proper installation. If you have a vehicle listed above please check if your model requires a H7 adapter prior to purchase.
Manufacturer Info
Return Information
When you buy from AFA Motors, you can rest assured that you'll get the right part for your vehicle, or we'll make it right.
Free Return Shipping on Exchanges
We'll pay for the return shipping on exchanges for all orders (even gifts with proof of purchase).
Plus every purchase comes with our 1-year lower price guarantee and expert service from our team of Gearheads.
It's our commitment to you, exclusively from afa-motors.com.
Some restrictions apply. See terms below.
---
How to Return an Item
Step 1: Start a Return from Your Online Account
Please log in to your account. Locate and click on your order under Order History. Find the item you wish to return or exchange and click on Return Item to submit your request.
Step 2: Receive a Return Authorization Number (RMA#)
One of our customer care specialists will provide you with:
An RMA#
An email with detailed return shipping instructions
Step 3: Pack & Ship
Pack everything that came with the product using its original packaging.
Affix the return shipping label that we provided to the package. If we didn't provide you with a return shipping label, make sure to include the RMA# on the package.
Ship the package to the address specified in the email you received from Step 2.
Step 4: Receive Your Refund or Exchange
After we receive your package, we'll process your refund or exchange immediately. You can expect to see the refund, less any applicable restocking fees, credited within 5-7 business days, to the payment method that you used when you originally placed your order. If you selected an exchange, we will ship you replacement item out immediately.
Restocking Fees
All returns are subject to a 20% restocking fee.
We'll waive the restocking fees if we made a mistake or if the product was delivered defective.
We'll also waive the restocking fee if you decide to exchange your product with another purchase.
---
Frequently Asked Questions
Which products can be returned or exchanged?
Most products can be returned within 30 days of purchase, provided it is returned in original packaging and the items are in new and unused condition. We reserve the right to charge up to the full value of the product for items not received in this condition.
Products that cannot be returned or exchanged:
Some products, including, but not limited to, custom patterned and custom, and painted items are not returnable
Products that shipped via freight, typically oversized and heavy items.
Products that have been installed on your vehicle
Products that have been modified (drilled or altered in any way)
Under what conditions may I return an item?
Defective Product
While we pride ourselves in our partnerships with leading vendors, accidents happen. Call us at (800) 874-8888 option #2 once you've discovered the defect, and we'll straighten it out.
Damaged Product
Occasionally packages in transit can become damaged. Call us right away so we can set it straight.
Incorrect Product
If you've received an incorrect product, or if we've guaranteed fitment on your order, and the product does not fit your vehicle, give us a call at (800) 874-8888 and select option #2, and we'll start the return process for you.
Lost Package
If your tracking information says delivered, but you haven't received your package yet, let us know. We will work with the carrier to get to the bottom of it.
Do I have to pay for return shipping?
Returns happen, and we're here to make the experience easy! In most cases, you are responsible for return shipping, but we can offer you a discounted return shipping label. If your item arrived defective or we made a mistake, we will happily take care of the return shipping.