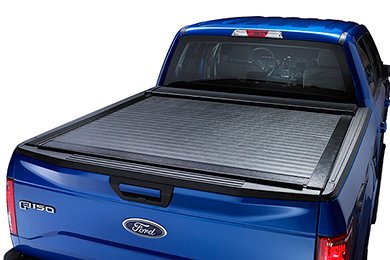 SECURE SHOPPING GUARANTEE
Tonnosport Tonneau Cover By Access - Roll-Up Truck Bed Cover
Features
Get serious cargo security without giving up storage space with the Pace Edwards Switchblade Retractable Tonneau Cover
Tonneau deck is constructed from aluminium slats coated in ArmorTek polymer for ultimate strength and security
Polymer coating and built-in water channels keep the elements at bay
Equipped with Pace Edwards¡¯ Power Spring for smooth, fast movement
Opens easily from either side using the full-width handle; full-length pull-strap included
Quick and simple installation and removal gives you total control over your truck bed in just minutes
These tonneau covers are custom-designed to fit perfectly on your pickup
Your Pace Edwards Switchblade Retractable Tonneau Cover is guarded by a 1-year warranty
Description
It only takes one of your favorite tools being pinched to make you want to employ full-time security to guard your gear from those greedy bandits. Forgo buying one of those earpieces with the squiggly wire, and replace that security with the aluminum deck that comes with the Pace Edwards Switchblade Retractable Tonneau Cover. It'll take the beating of even the most persistent of thieves and be the only protection you need ¨C but you can keep the all-black outfit you already bought, if you want.

Security isn't the only benefit you're getting from the aluminum slat design of the Pace Edwards retractable tonneau cover. Each slat is bonded with ArmorTek ¨C a weather-resistant polymer that helps to keep moisture out and your cargo in. The ArmorTek coating paired with the built-in channels that funnel water away in a downpour help to make sure your truck bed area is entirely weatherproof in all but the most extreme conditions.

If you're worried about buying a tonneau cover that's going to improve the stock price of WD40 thanks to how hard it is to roll up, you can rest easy with this Pace Edwards truck bed cover. The compact canister has a custom continuous-tension spring built in that provides consistent and smooth operation every time you open and close the cover ¨C no more squeaking or binding to turn all the heads in the hardware store parking lot.

If you have more oversized cargo than you can shake a stick at, you'll be thanking your lucky stars you went with a truck bed cover that can be removed in just minutes to give you full access to your truck bed. Installation is as simple as the removal too, so when your new retractable tonneau cover arrives, you won't need to block out the full afternoon (and evening¡­ and the next morning). With simply a screwdriver and a 7/16' wrench you'll be kitted out with one of the best truck bed covers on the market!

Sick of making old person noises every time you open and close things? Pace Edwards has done their best to make your life easy with a convenient pull strap to help you close your tonneau cover, saving you from that awkward pickup truck yoga trying to reach for the edge of the cover to close it. And it¡¯s all backed by a stout warranty against manufacturer defects. Choose a Pace Edwards truck bed cover and you¡¯ll never look back.


Frequently Asked Questions
How secure is the Switchblade Tonneau Cover?
The cover panels are made from polymer padded aluminum which is stout and sturdy. It would require a lot of force and dedication to puncture the surface. Out of sight, out of mind is key. Covering your gear severly limits someone's interest in what may or may not be in the truck bed. As long as your tailgate is locked, the cover is secure.
Is the Switchblade bed cover waterproof?
Ultimately no truck bed cover is totally waterproof, unless it's a fully overlapping style. Most retractable covers do an excellent job however keeping major water out, due to the fact that the rails run uninterrupted down the entire length of the bed.
Where is the Pace Edwards Switchblade bed cover made?
The Switchblade tonneau covers are made in the USA.
How do I lock the Switchblade cover if my truck doesn't have a tailgate lock?
If fully closed, it overlaps the truck bed, preventing the bed from opening relying on your tailgate to be closed. Pop & Lock Tailgate Locks are available for most trucks as an aftermarket solution that can be retrofitted if your truck was not originally equipped with a tailgate lock. Sold separately, available at AutoAnything.
Notes
Manufacturer Info
Return Information
When you buy from AFA Motors, you can rest assured that you'll get the right part for your vehicle, or we'll make it right.
Free Return Shipping on Exchanges
We'll pay for the return shipping on exchanges for all orders (even gifts with proof of purchase).
Plus every purchase comes with our 1-year lower price guarantee and expert service from our team of Gearheads.
It's our commitment to you, exclusively from afa-motors.com.
Some restrictions apply. See terms below.
---
How to Return an Item
Step 1: Start a Return from Your Online Account
Please log in to your account. Locate and click on your order under Order History. Find the item you wish to return or exchange and click on Return Item to submit your request.
Step 2: Receive a Return Authorization Number (RMA#)
One of our customer care specialists will provide you with:
An RMA#
An email with detailed return shipping instructions
Step 3: Pack & Ship
Pack everything that came with the product using its original packaging.
Affix the return shipping label that we provided to the package. If we didn't provide you with a return shipping label, make sure to include the RMA# on the package.
Ship the package to the address specified in the email you received from Step 2.
Step 4: Receive Your Refund or Exchange
After we receive your package, we'll process your refund or exchange immediately. You can expect to see the refund, less any applicable restocking fees, credited within 5-7 business days, to the payment method that you used when you originally placed your order. If you selected an exchange, we will ship you replacement item out immediately.
Restocking Fees
All returns are subject to a 20% restocking fee.
We'll waive the restocking fees if we made a mistake or if the product was delivered defective.
We'll also waive the restocking fee if you decide to exchange your product with another purchase.
---
Frequently Asked Questions
Which products can be returned or exchanged?
Most products can be returned within 30 days of purchase, provided it is returned in original packaging and the items are in new and unused condition. We reserve the right to charge up to the full value of the product for items not received in this condition.
Products that cannot be returned or exchanged:
Some products, including, but not limited to, custom patterned and custom, and painted items are not returnable
Products that shipped via freight, typically oversized and heavy items.
Products that have been installed on your vehicle
Products that have been modified (drilled or altered in any way)
Under what conditions may I return an item?
Defective Product
While we pride ourselves in our partnerships with leading vendors, accidents happen. Call us at (800) 874-8888 option #2 once you've discovered the defect, and we'll straighten it out.
Damaged Product
Occasionally packages in transit can become damaged. Call us right away so we can set it straight.
Incorrect Product
If you've received an incorrect product, or if we've guaranteed fitment on your order, and the product does not fit your vehicle, give us a call at (800) 874-8888 and select option #2, and we'll start the return process for you.
Lost Package
If your tracking information says delivered, but you haven't received your package yet, let us know. We will work with the carrier to get to the bottom of it.
Do I have to pay for return shipping?
Returns happen, and we're here to make the experience easy! In most cases, you are responsible for return shipping, but we can offer you a discounted return shipping label. If your item arrived defective or we made a mistake, we will happily take care of the return shipping.