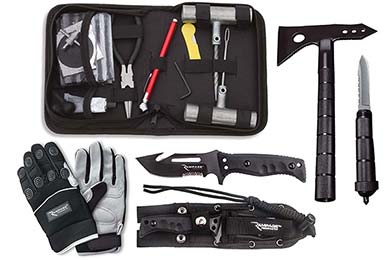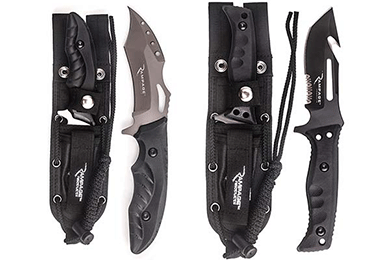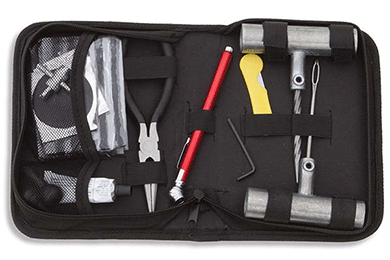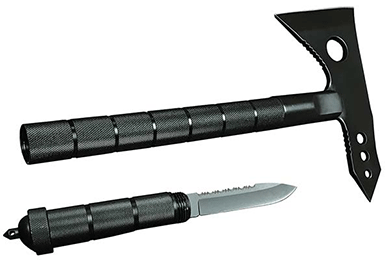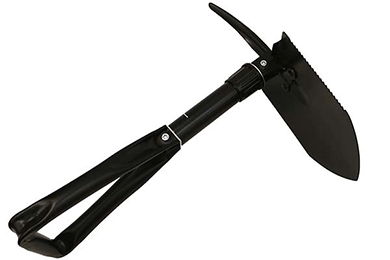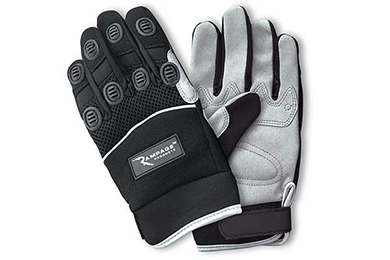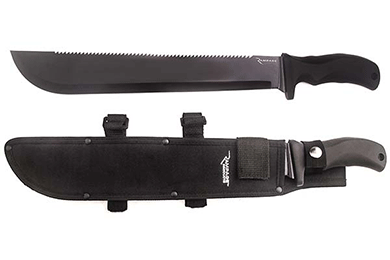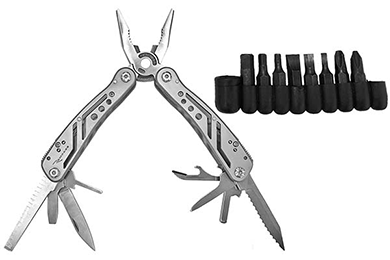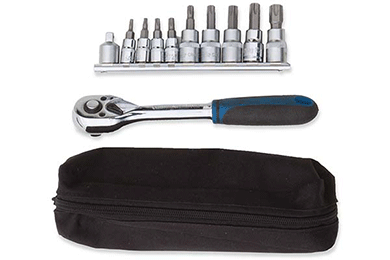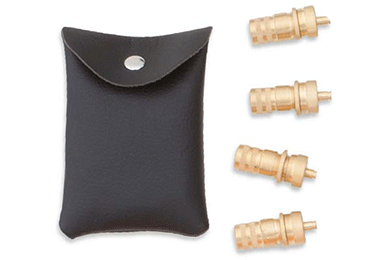 SECURE SHOPPING GUARANTEE
Rampage Trail Recovery Gear
Features
No self-respecting off-roader would hit the trail without some Rampage Trail Recovery Gear in his storage compartment
Trail axe and knife are great for close-to-camp tasks, like chopping wood to loosening too-tight D-ring pins
Machete (with included scabbard) comes in handy for clearing wood and brush
A thicker knife (also with sheath) is designed with a hook to cut cable, wire and rope, and has a serrated edge
Multi-shovel is great for digging holes and even doubles as a pick-axe
Thick gloves protect your palms, knuckles, joints and fingernails
Multi-tool knife is like a Swiss Army on steroids, offering pliers, a file, serrated-edge blades, can opener and more
Four tire deflators come in a handy pouch with a snap-on flap for security
Diverse tire repair kit (with its own case) includes an air pressure gauge
Last but not least, you get a socket, wrench and nut & bolt set
Your Rampage Trail Recovery Gear is supported by a 1-year warranty
Description
Never leave home for the great outdoors without Rampage Trail Recovery Gear. The only way to make your campsite feel like a home away from home, and every potential emergency situation like a walk in the park, these accessories would make the most seasoned survivalist proud.

Need to chop some wood for the fire or loosen-up your D-ring pins? No problem ¨C the trail axe and knife combo should come in handy. A larger, thicker knife is also a part of this assembly, and with its hook design and serrated edge, is great for cutting thick rope and wire. A machete, with the sheath included, helps in the clearing of wood and brush. Want to dig a hole? The multi-shovel has you covered. You also get four tire deflators in a pouch with a snap-on flap and a tire repair kit in its own case, with everything from an air pressure gauge to pliers.

The multi-tool knife is a great all-in-one, with everything from a file to serrated-edge blades and a can opener ¨C just in time for a relaxing night around the fire. You also get thick-palmed gloves for those times you really need to use your hands, and last but not least, there¡¯s a socket, wrench and nut & bolt set for fiddly work. Your Rampage Trail Recovery Gear is backed by a 1-year warranty.
Notes
ATTN: State of California Consumers
WARNING Cancer and Reproductive Harm (www.p65warnings.ca.gov)
Manufacturer Info
Return Information
When you buy from AFA Motors, you can rest assured that you'll get the right part for your vehicle, or we'll make it right.
Free Return Shipping on Exchanges
We'll pay for the return shipping on exchanges for all orders (even gifts with proof of purchase).
Plus every purchase comes with our 1-year lower price guarantee and expert service from our team of Gearheads.
It's our commitment to you, exclusively from afa-motors.com.
Some restrictions apply. See terms below.
---
How to Return an Item
Step 1: Start a Return from Your Online Account
Please log in to your account. Locate and click on your order under Order History. Find the item you wish to return or exchange and click on Return Item to submit your request.
Step 2: Receive a Return Authorization Number (RMA#)
One of our customer care specialists will provide you with:
An RMA#
An email with detailed return shipping instructions
Step 3: Pack & Ship
Pack everything that came with the product using its original packaging.
Affix the return shipping label that we provided to the package. If we didn't provide you with a return shipping label, make sure to include the RMA# on the package.
Ship the package to the address specified in the email you received from Step 2.
Step 4: Receive Your Refund or Exchange
After we receive your package, we'll process your refund or exchange immediately. You can expect to see the refund, less any applicable restocking fees, credited within 5-7 business days, to the payment method that you used when you originally placed your order. If you selected an exchange, we will ship you replacement item out immediately.
Restocking Fees
All returns are subject to a 20% restocking fee.
We'll waive the restocking fees if we made a mistake or if the product was delivered defective.
We'll also waive the restocking fee if you decide to exchange your product with another purchase.
---
Frequently Asked Questions
Which products can be returned or exchanged?
Most products can be returned within 30 days of purchase, provided it is returned in original packaging and the items are in new and unused condition. We reserve the right to charge up to the full value of the product for items not received in this condition.
Products that cannot be returned or exchanged:
Some products, including, but not limited to, custom patterned and custom, and painted items are not returnable
Products that shipped via freight, typically oversized and heavy items.
Products that have been installed on your vehicle
Products that have been modified (drilled or altered in any way)
Under what conditions may I return an item?
Defective Product
While we pride ourselves in our partnerships with leading vendors, accidents happen. Call us at (800) 874-8888 option #2 once you've discovered the defect, and we'll straighten it out.
Damaged Product
Occasionally packages in transit can become damaged. Call us right away so we can set it straight.
Incorrect Product
If you've received an incorrect product, or if we've guaranteed fitment on your order, and the product does not fit your vehicle, give us a call at (800) 874-8888 and select option #2, and we'll start the return process for you.
Lost Package
If your tracking information says delivered, but you haven't received your package yet, let us know. We will work with the carrier to get to the bottom of it.
Do I have to pay for return shipping?
Returns happen, and we're here to make the experience easy! In most cases, you are responsible for return shipping, but we can offer you a discounted return shipping label. If your item arrived defective or we made a mistake, we will happily take care of the return shipping.