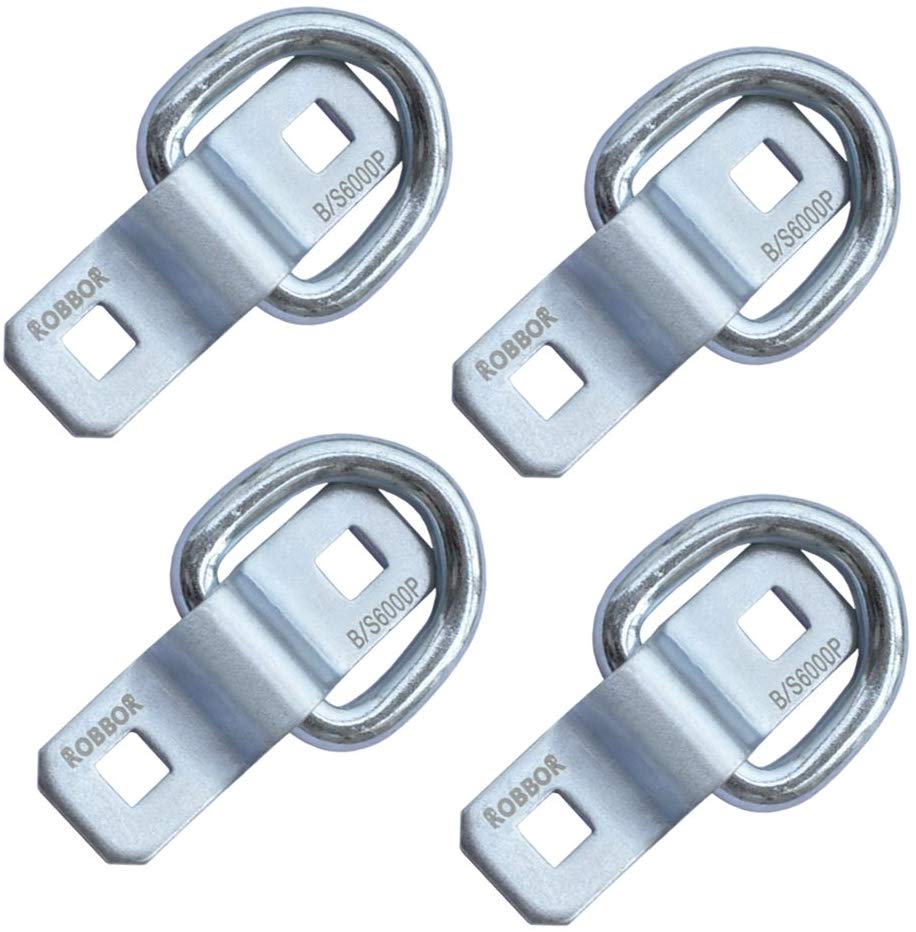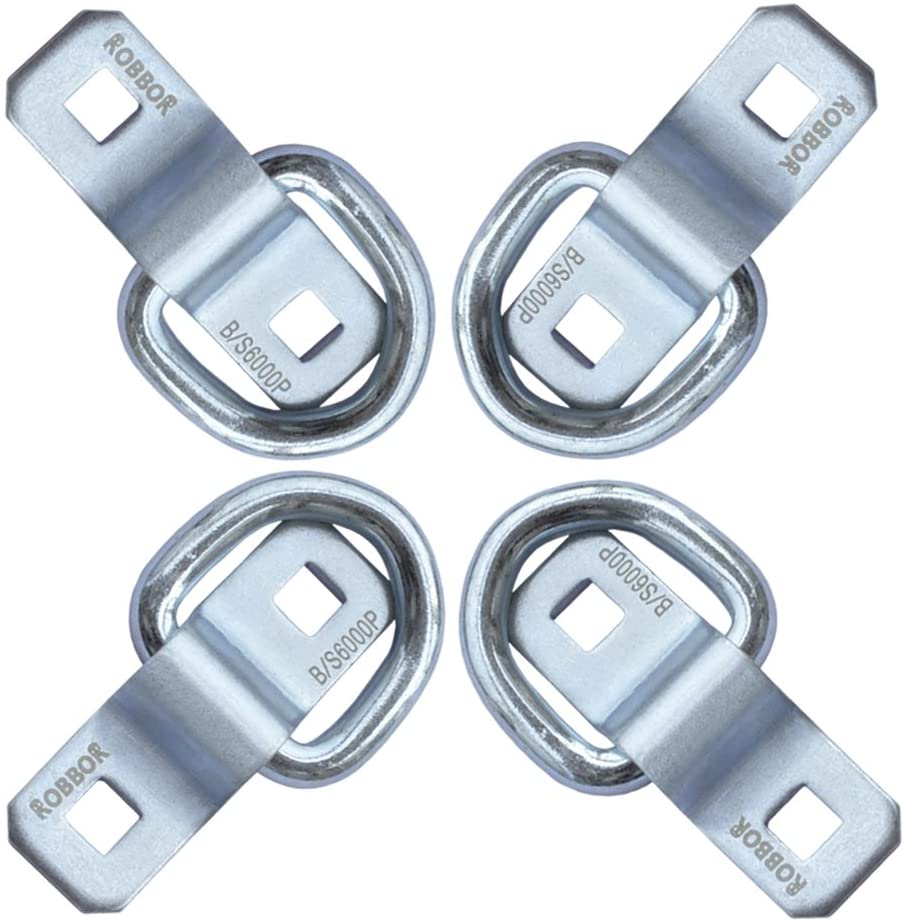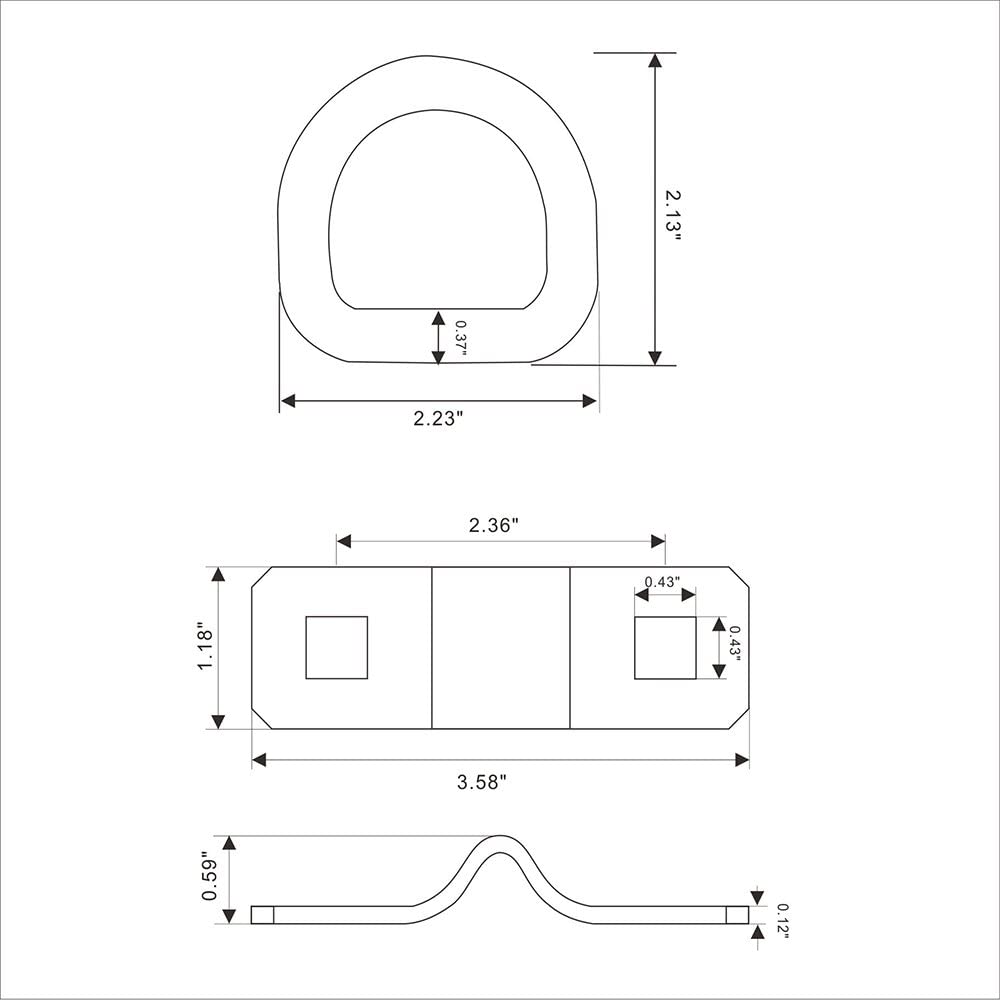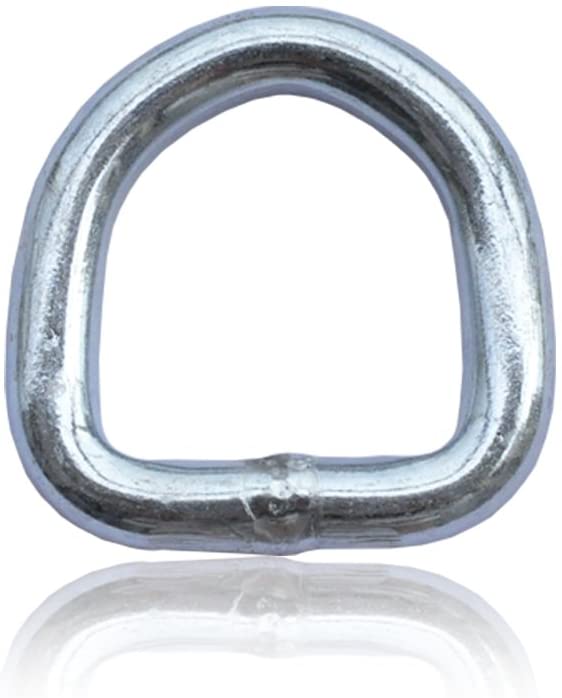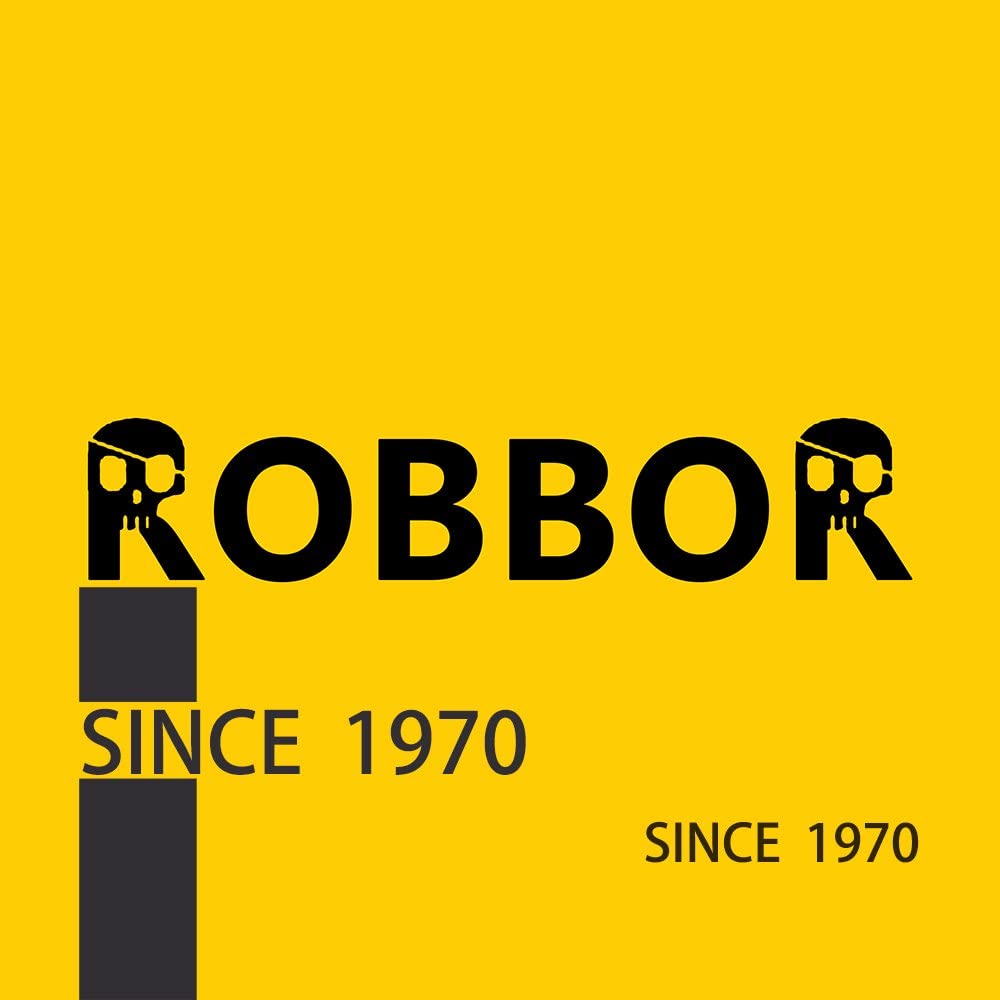 SECURE SHOPPING GUARANTEE
Robbor D Ring,Tie Down Anchor 4 Pk Surface Mount Tie Down Ring Heavy Duty 6000 Pound Breaking Strength Super Strong Forged Steel for Trailer Cargo Control, Tying Down Motor Bikers,ATV's
Comes with a Convenient Anchor Point for Ropes,Bungee Cords or Straps Perfect for Cargo Management in Trailer,Truck and Vans

4 Pk per Set Features a Capacity of 2,000 lbs.Breaking Strength 6,000 lbs.

Constructed From High Strength Forged Steel with Dimension 3-1/2"x1-3/16" Mounting Bracket Provides a Sturdy Base

7/16"Diameter Mounting Holes spaced 1 3/8" apart, center to center

Protected by a Durable Zinc-plated finished Will Get Rust Hardly.

When You are in the Journey Its Very Important to Make Sure That Your Cargo is Tied Down and Fully Secure.Not Only is Unsecured Cargo a danger to you , Your Passengers and Your Fellow Drivers,but It Can Also Cause Damage to Your Trailer,Pickup Truck Bed or Vehicle Cargo Area,As Well As to The Cargo Itself. This Tie Down Anchors are Easy to Mount in any Trailer ,Truck or Full-size van. Best Together With Our Cargo Straps.

This Durable D-ring Tie Down Anchor is Designed to be Surface Mounted and Add a Convenient Anchoring Point for Cargo Straps, Ropes or Cables. It Comes with a 3-1/2"x1 -3/16" Mounting Bracket and Two 7/16" Diameter Mounting Holes, Spaced 2 3/8" Apart, Center to Center. This D-ring is Plated In Zinc to Withstand The Elements and Offers a Capacity of 2,000 lbs.The Large Flip-up D-ring anchor Point Folds Away When Not In Use, and is Versatile Enough to Accept Most Tie Down End Fittings.

Note:Mounting Screws Are Not Included In This Package.

For Security Tips: Tie-down Anchors Must be Chosen According to Their Safe Working Load Limit (WLL). The Weight of The Secured Cargo Must not Exceed the Combined WLL of The Anchors Being Used. For Example, If You Are Using Anchors With a WLL Of 100 lbs Each to Tie Down a Load Weighing 400 lbs, Then You Need at Least 4 Anchors to Safely Secure That Load. It is Recommended That You Always Use Anchors in Pairs.

3 1/2" x 1 3/16" Mounting Braket and Two 7/16" Dimeter Mounting Holes. Spaced 2-3/8" Apart Center to Center.
2/5" Dia Ring. H:2-3/8"X W 2-5/16"

Made of Forged Steel with Full Zinc Plated to Withstand The Elements and Offers a Capacity of 2,000 lbs and 6,000 lbs Breaking.

The Large Flip-up D-ring anchor Point Folds Away When Not In Use, and is Versatile Enough to Accept Most Tie Down End Fittings.

Recommended Fixing, M10 Stainless Steel Bolt with Washer and Nut.
When you buy from AFA Motors, you can rest assured that you'll get the right part for your vehicle, or we'll make it right.
Free Return Shipping on Exchanges
We'll pay for the return shipping on exchanges for all orders (even gifts with proof of purchase).
Plus every purchase comes with our 1-year lower price guarantee and expert service from our team of Gearheads.
It's our commitment to you, exclusively from afa-motors.com.
Some restrictions apply. See terms below.
---
How to Return an Item
Step 1: Start a Return from Your Online Account
Please log in to your account. Locate and click on your order under Order History. Find the item you wish to return or exchange and click on Return Item to submit your request.
Step 2: Receive a Return Authorization Number (RMA#)
One of our customer care specialists will provide you with:
An RMA#
An email with detailed return shipping instructions
Step 3: Pack & Ship
Pack everything that came with the product using its original packaging.
Affix the return shipping label that we provided to the package. If we didn't provide you with a return shipping label, make sure to include the RMA# on the package.
Ship the package to the address specified in the email you received from Step 2.
Step 4: Receive Your Refund or Exchange
After we receive your package, we'll process your refund or exchange immediately. You can expect to see the refund, less any applicable restocking fees, credited within 5-7 business days, to the payment method that you used when you originally placed your order. If you selected an exchange, we will ship you replacement item out immediately.
Restocking Fees
All returns are subject to a 20% restocking fee.
We'll waive the restocking fees if we made a mistake or if the product was delivered defective.
We'll also waive the restocking fee if you decide to exchange your product with another purchase.
---
Frequently Asked Questions
Which products can be returned or exchanged?
Most products can be returned within 30 days of purchase, provided it is returned in original packaging and the items are in new and unused condition. We reserve the right to charge up to the full value of the product for items not received in this condition.
Products that cannot be returned or exchanged:
Some products, including, but not limited to, custom patterned and custom, and painted items are not returnable
Products that shipped via freight, typically oversized and heavy items.
Products that have been installed on your vehicle
Products that have been modified (drilled or altered in any way)
Under what conditions may I return an item?
Defective Product
While we pride ourselves in our partnerships with leading vendors, accidents happen. Call us at (800) 874-8888 option #2 once you've discovered the defect, and we'll straighten it out.
Damaged Product
Occasionally packages in transit can become damaged. Call us right away so we can set it straight.
Incorrect Product
If you've received an incorrect product, or if we've guaranteed fitment on your order, and the product does not fit your vehicle, give us a call at (800) 874-8888 and select option #2, and we'll start the return process for you.
Lost Package
If your tracking information says delivered, but you haven't received your package yet, let us know. We will work with the carrier to get to the bottom of it.
Do I have to pay for return shipping?
Returns happen, and we're here to make the experience easy! In most cases, you are responsible for return shipping, but we can offer you a discounted return shipping label. If your item arrived defective or we made a mistake, we will happily take care of the return shipping.