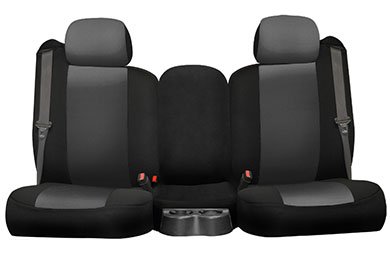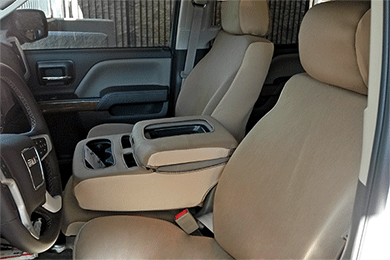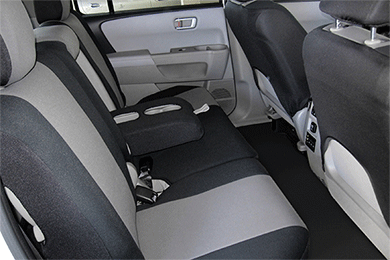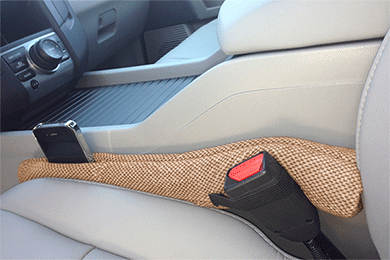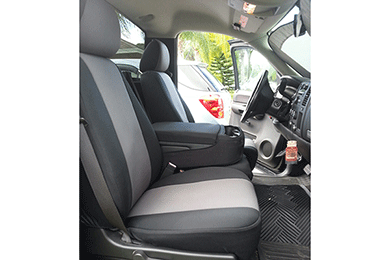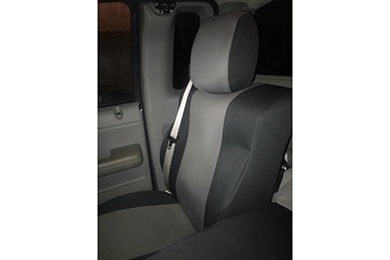 SECURE SHOPPING GUARANTEE
Seat Designs Neosupreme Custom Fit Seat Covers - Neoprene Truck & Car Seat Covers
Features
Seat Designs Neosupreme custom fit seat covers offer sporty and durable protection for your car, truck or SUV¡¯s upholstery
Constructed of a durable, polyester-blend material for lasting coverage
Water-resistant, fade-resistant, and stain-resistant to protect your car¡¯s interior from sun damage, rips, tears, and spills
An affordable alternative to neoprene seat covers, with the same soft to the touch feeling
Available in over 10 vibrant color combinations to match or complement your interior
Custom design and precision cuts make for a factory-like fit right out of the box
Easy to clean fabric - just spot clean with a mild detergent and air dry
Seat Designs car seat covers are sold by the row with included head/armrests and matching console covers for some vehicles
Proudly made in the USA.
Seat Designs Neosupreme Custom Fit Seat Covers are backed by a 2-year warranty
Description
Take a moment to picture your vehicle's beautiful upholstery the day you bought it ¨C the feel, the shine, and that amazing ¡°new car¡± smell. Don't let an accidental coffee spill change all that. Equip your car with Seat Designs Neosupreme seat covers for a water (and coffee) resistant barrier that protects not only your car¡¯s interior but its resale value as well.

Seat Designs Neosupreme Seat Covers are comfortable, durable, and easy on the eyes, adding a new layer of style to your car¡¯s interior while protecting the original materials from wear, tear, and stains. Based on the better-known 'Neoprene', a material commonly used in diving wetsuits, Neosupreme is an affordable alternative to Neoprene seat covers that is durable, breathable and stain-resistant. Plus, your new Neosupreme car seat covers are more lightweight, more breathable, and easier to install, too, thanks to their polyester blend construction. You probably won¡¯t notice the difference, but your wallet sure will. So, as long as you aren't hauling overfull fish tanks on your seats every day, you may as well save yourself the extra expense. Spot clean your new covers for a quick and easy clean up and spend that money on replacing your spilled coffee instead.

The term 'universal-fit' is generally code for 'they will cover your seats, but they'll look like your thumb after a day in the pool.' The folks at Seat Designs don't mess around with one-size-fits-all nonsense, they employ advanced computer technology to design and accurately cut a set of car seat covers according to your vehicle¡¯s specific measurements, carefully stitching them together for precision lines every time. Seat Designs Neosupreme Custom Fit Seat Covers will fit your upholstery so tightly that people will think it came that way. Plus, they come in over 10 color combinations to give your car, truck or SUV just the look you¡¯re going for, and are backed by a 2-year warranty to make sure you have lasting protection.


Frequently Asked Questions
How long until I receive my seat covers?
Because the seat covers are made to order, lead times vary. Please input your specific submodel and select your material to view the estimated ship date.
What is the difference between Neoprene and Neosupreme seat covers?
Neoprene is a heavier duty, waterproof material that is commonly used to make wetsuits for surfers and scuba divers. Durable, breathable and stain resistant, Seat Designs offers Custom Neoprene Seat Covers in several different camo variations. Neosupreme, on the other hand, is a lightweight, inexpensive alternative to Neoprene fabric that is a polyester blend. Neosupreme has similar characteristics, but is less water resistant, but considerably more affordable.
Do I have to remove my original fabric to install Seat Designs Neosupreme Seat Covers?
No, all Seat Designs seat covers fit directly over your seat's original fabric.
Do Seat Designs Neosupreme Seat Covers come with map pockets sewn into the rear of the front seat covers?
No, Seat Designs seat covers do not come with seat back map pockets.
What's the best way to clean and care for Neosupreme seat covers?
Spot cleaning while the seat covers are still installed offers the easiest and quickest form of maintenance. Do not machine wash. Mild detergent with a moist cloth may be used on neosupreme. Blot with dry towel and air dry to finish.
Manufacturer Info
Return Information
When you buy from AFA Motors, you can rest assured that you'll get the right part for your vehicle, or we'll make it right.
Free Return Shipping on Exchanges
We'll pay for the return shipping on exchanges for all orders (even gifts with proof of purchase).
Plus every purchase comes with our 1-year lower price guarantee and expert service from our team of Gearheads.
It's our commitment to you, exclusively from afa-motors.com.
Some restrictions apply. See terms below.
---
How to Return an Item
Step 1: Start a Return from Your Online Account
Please log in to your account. Locate and click on your order under Order History. Find the item you wish to return or exchange and click on Return Item to submit your request.
Step 2: Receive a Return Authorization Number (RMA#)
One of our customer care specialists will provide you with:
An RMA#
An email with detailed return shipping instructions
Step 3: Pack & Ship
Pack everything that came with the product using its original packaging.
Affix the return shipping label that we provided to the package. If we didn't provide you with a return shipping label, make sure to include the RMA# on the package.
Ship the package to the address specified in the email you received from Step 2.
Step 4: Receive Your Refund or Exchange
After we receive your package, we'll process your refund or exchange immediately. You can expect to see the refund, less any applicable restocking fees, credited within 5-7 business days, to the payment method that you used when you originally placed your order. If you selected an exchange, we will ship you replacement item out immediately.
Restocking Fees
All returns are subject to a 20% restocking fee.
We'll waive the restocking fees if we made a mistake or if the product was delivered defective.
We'll also waive the restocking fee if you decide to exchange your product with another purchase.
---
Frequently Asked Questions
Which products can be returned or exchanged?
Most products can be returned within 30 days of purchase, provided it is returned in original packaging and the items are in new and unused condition. We reserve the right to charge up to the full value of the product for items not received in this condition.
Products that cannot be returned or exchanged:
Some products, including, but not limited to, custom patterned and custom, and painted items are not returnable
Products that shipped via freight, typically oversized and heavy items.
Products that have been installed on your vehicle
Products that have been modified (drilled or altered in any way)
Under what conditions may I return an item?
Defective Product
While we pride ourselves in our partnerships with leading vendors, accidents happen. Call us at (800) 874-8888 option #2 once you've discovered the defect, and we'll straighten it out.
Damaged Product
Occasionally packages in transit can become damaged. Call us right away so we can set it straight.
Incorrect Product
If you've received an incorrect product, or if we've guaranteed fitment on your order, and the product does not fit your vehicle, give us a call at (800) 874-8888 and select option #2, and we'll start the return process for you.
Lost Package
If your tracking information says delivered, but you haven't received your package yet, let us know. We will work with the carrier to get to the bottom of it.
Do I have to pay for return shipping?
Returns happen, and we're here to make the experience easy! In most cases, you are responsible for return shipping, but we can offer you a discounted return shipping label. If your item arrived defective or we made a mistake, we will happily take care of the return shipping.