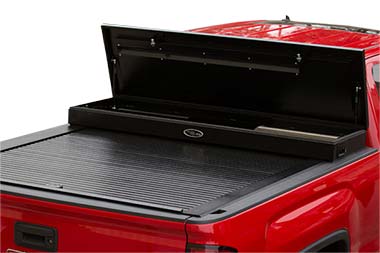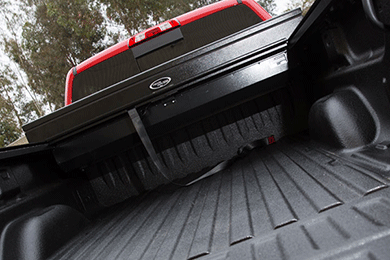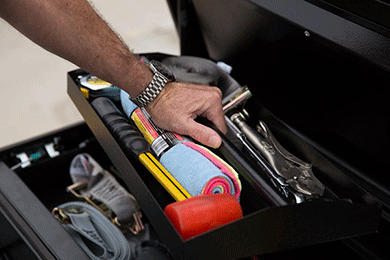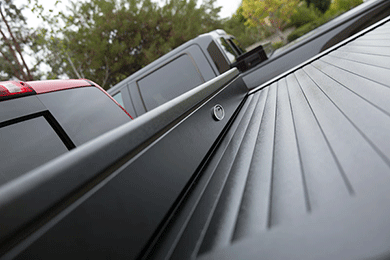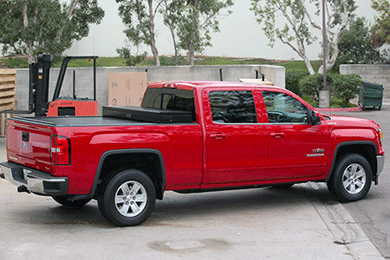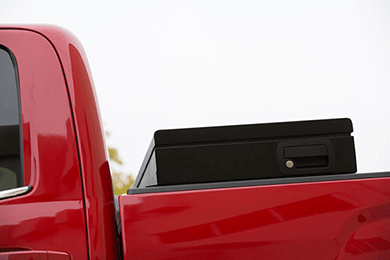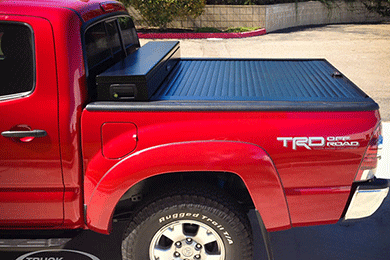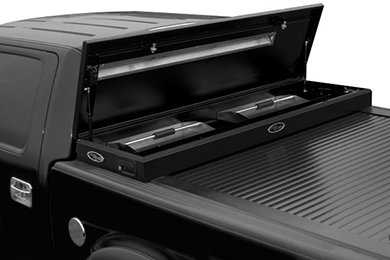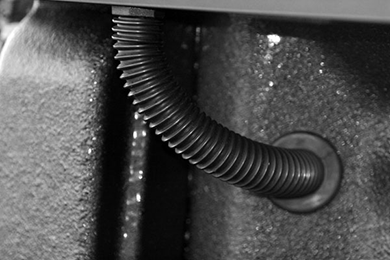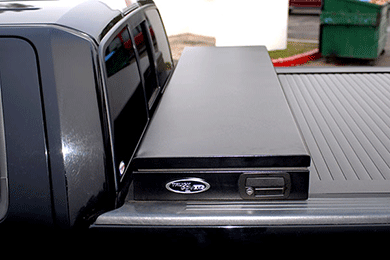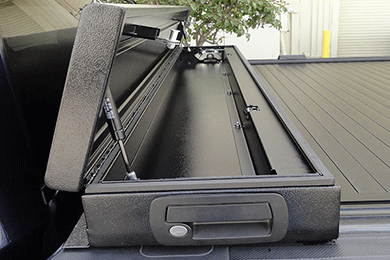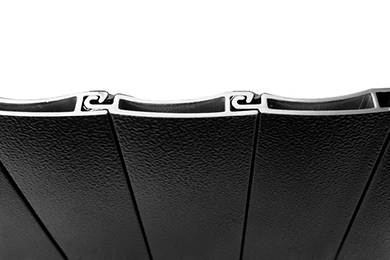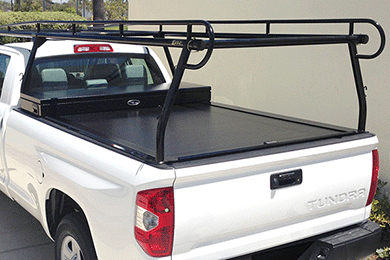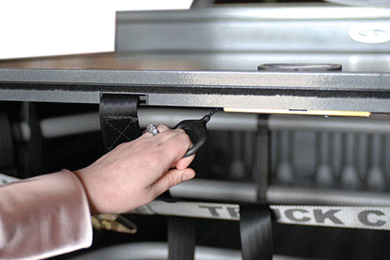 SECURE SHOPPING GUARANTEE
Truck Covers USA American Work Toolbox Tonneau Cover - Tool Box Truck Bed Cover
Features
2-in-1 accessibility with this multi-functional stackable tonneau cover by Truck Covers USA
Beautifully incorporates a tool box and tonneau
Stacks the tool box and small retractable cover canister to maximize space
Double-walled aluminum panels can support up to a whopping 550 lbs.
Stop-and-lock points every 12¡± on the rail mean variable access
Heavy-duty galvanized toolbox features trays that can be taken out
Spacious toolbox is 20¡±w x 14.5¡±d and sits 5.5¡± above the bed rails
Features a powder coated finish and secure key lock
Optional accessories available to enhance versatility
Easy installation with minor drilling required for some applications
Takes approximately 1-2 hours to install
Tailgate can still be used with tonneau cover on
Description
Are you a contractor? Handyman? General MacGyver type-a-guy? Welp, this is the gig for you. With this Truck Covers USA tool box tonneau cover, you get a high quality tool box that sits on top of a premium retractable tonneau cover that has the world¡¯s smallest cover canister. That means you get maximum bed space for all your toys and tools. If you need to haul bikes, tools, toys or tots (OK, got carried away there), you can do pretty much anything you want to and be able to lock it all up when you need to.

A lot of the other guys offer similar retractable tonneau cover and toolbox combos, but have bulky canisters that sit in front of the toolbox, eating up as much as 18 inches of valuable real estate in your truck bed. No bueno! So this design, which sort of embodies more of a stackable Lego type design if you will, gives you more space with less hassle.

What about the toolbox layout, you ask? Half the toolbox is 15.5¡± deep and the other half is 5.5¡± deep so there¡¯s something for everyone and everything to fit into. Add in two removable trays with anti-slip material so they don¡¯t make a mess every time you take a corner. (Think take-out spaghetti gone bad). If you want, you can even upgrade these cool trays to stainless steel if you¡¯re so inclined. But wait, there¡¯s more! You can even get power actuators for the tool box that work with your truck¡¯s factory key fob and/or LED lights that turn on when you open the toolbox¡­woot!

That¡¯s all fine and cool, right, but how does this toolbox fare against predators? Glad you asked! Dual heavy-duty rotary latches and heavy-gauge latch pins mean that even the meanest racoon or juvenile delinquent out there can¡¯t get his nasty little claws in there without a bloody fight.

And then there¡¯s the fact that your Truck Cover USA tonneau cover carries a 2-year warranty ¨C no hassles guaranteed. Boom.
Manufacturer Info
Return Information
When you buy from AFA Motors, you can rest assured that you'll get the right part for your vehicle, or we'll make it right.
Free Return Shipping on Exchanges
We'll pay for the return shipping on exchanges for all orders (even gifts with proof of purchase).
Plus every purchase comes with our 1-year lower price guarantee and expert service from our team of Gearheads.
It's our commitment to you, exclusively from afa-motors.com.
Some restrictions apply. See terms below.
---
How to Return an Item
Step 1: Start a Return from Your Online Account
Please log in to your account. Locate and click on your order under Order History. Find the item you wish to return or exchange and click on Return Item to submit your request.
Step 2: Receive a Return Authorization Number (RMA#)
One of our customer care specialists will provide you with:
An RMA#
An email with detailed return shipping instructions
Step 3: Pack & Ship
Pack everything that came with the product using its original packaging.
Affix the return shipping label that we provided to the package. If we didn't provide you with a return shipping label, make sure to include the RMA# on the package.
Ship the package to the address specified in the email you received from Step 2.
Step 4: Receive Your Refund or Exchange
After we receive your package, we'll process your refund or exchange immediately. You can expect to see the refund, less any applicable restocking fees, credited within 5-7 business days, to the payment method that you used when you originally placed your order. If you selected an exchange, we will ship you replacement item out immediately.
Restocking Fees
All returns are subject to a 20% restocking fee.
We'll waive the restocking fees if we made a mistake or if the product was delivered defective.
We'll also waive the restocking fee if you decide to exchange your product with another purchase.
---
Frequently Asked Questions
Which products can be returned or exchanged?
Most products can be returned within 30 days of purchase, provided it is returned in original packaging and the items are in new and unused condition. We reserve the right to charge up to the full value of the product for items not received in this condition.
Products that cannot be returned or exchanged:
Some products, including, but not limited to, custom patterned and custom, and painted items are not returnable
Products that shipped via freight, typically oversized and heavy items.
Products that have been installed on your vehicle
Products that have been modified (drilled or altered in any way)
Under what conditions may I return an item?
Defective Product
While we pride ourselves in our partnerships with leading vendors, accidents happen. Call us at (800) 874-8888 option #2 once you've discovered the defect, and we'll straighten it out.
Damaged Product
Occasionally packages in transit can become damaged. Call us right away so we can set it straight.
Incorrect Product
If you've received an incorrect product, or if we've guaranteed fitment on your order, and the product does not fit your vehicle, give us a call at (800) 874-8888 and select option #2, and we'll start the return process for you.
Lost Package
If your tracking information says delivered, but you haven't received your package yet, let us know. We will work with the carrier to get to the bottom of it.
Do I have to pay for return shipping?
Returns happen, and we're here to make the experience easy! In most cases, you are responsible for return shipping, but we can offer you a discounted return shipping label. If your item arrived defective or we made a mistake, we will happily take care of the return shipping.