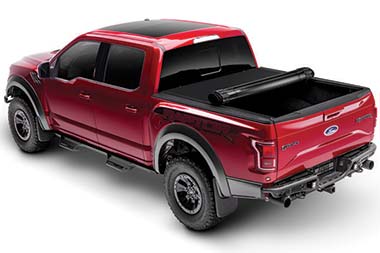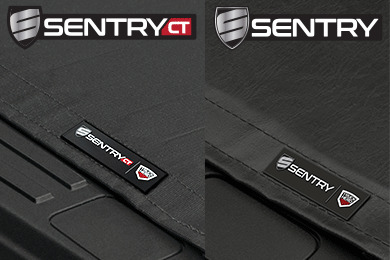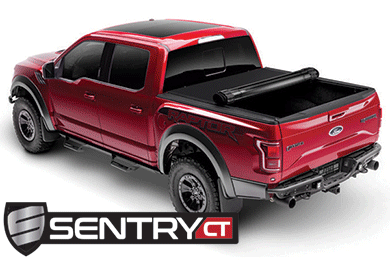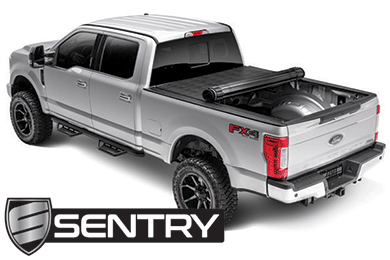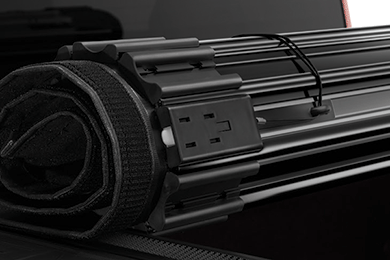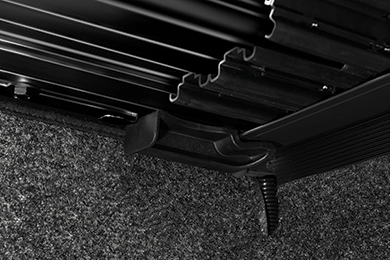 SECURE SHOPPING GUARANTEE
Truxedo Sentry Tonneau Cover - Roll-Up Truck Bed Cover
Features
Give your truck bed the security you crave with a TruXedo Sentry Tonneau Cover
Low-profile X15 rails enable flush mounting for a sleek cover that cannot be opened from the outside when your truck bed is locked
Robust fabric is UV resistant to prevent fading, warping and stretching
Material is pressure-bonded to the hard aluminum frame for added resilience
Roll-up design allows you to enjoy full truck bed access for ease of use and hauling oversized cargo
Self-leveling design makes installation a breeze and sheds water with ease
Quick release removal system allows you to take off the entire cover in mere seconds
Tough slam latches lock everything down for added security
Choose from either leather-grain vinyl fabric or matte black woven fabric to suit your truck¡¯s style
Your TruXedo Sentry Tonneau Cover is backed by a 3-year warranty.
Description
Leave the security of your truck's cargo in the hands of the best sentry available on the market ¨C no, we haven't started selling Terminator models just yet. But, the TruXedo Sentry Tonneau Cover is the next best thing when it comes to keeping your gear protected from any external threats.

'Industrial strength' isn't a term that TruXedo throws around willy-nilly. They've thought through every detail to make your heavy-duty roll-up tonneau cover the best shield you can have against Mother Nature and rogue thieves. On the surface, you get a sleek, Xtra-low profile truck bed cover in one of two finishes - either leather-grain vinyl fabric or matte black woven fabric. And, hiding below the surface, is a pressure-bonded rigid aluminum frame (painted matte black for extra points) that provides a slash-resistant, hardy barrier for extra durability, added security and a bit more peace of mind.

Hidden in the fine print of any pickup truck title is the obligation to help all your friends and family move their belongings at a moment¡¯s notice. There is nothing worse than fighting with a stubborn truck bed cover so you can load up some outdated floral furniture that somehow still exists. Never fear, the Sentry roll-up tonneau cover can be quickly removed without the use of any tools for complete access to the whole unobstructed truck bed. There went your last excuse.

If you're the handy do-it-yourself type that gets excited about the idea of spending your afternoon installing a new roll-up tonneau cover, you may be in for some bitter disappointment. TruXedo has made the installation process so simple that you won't even need to dust off your power tools for the job. Armed with just a wrench and a pair of scissors, you'll have your new truck bed cover installed in about the same time it takes for your aunt to give you the directions to her new house (we¡¯re estimating that to be about 30 minutes on average). In fact, the entire installation fits into a two-minute YouTube video that you can watch right here.
Notes
Manufacturer Info
Return Information
When you buy from AFA Motors, you can rest assured that you'll get the right part for your vehicle, or we'll make it right.
Free Return Shipping on Exchanges
We'll pay for the return shipping on exchanges for all orders (even gifts with proof of purchase).
Plus every purchase comes with our 1-year lower price guarantee and expert service from our team of Gearheads.
It's our commitment to you, exclusively from afa-motors.com.
Some restrictions apply. See terms below.
---
How to Return an Item
Step 1: Start a Return from Your Online Account
Please log in to your account. Locate and click on your order under Order History. Find the item you wish to return or exchange and click on Return Item to submit your request.
Step 2: Receive a Return Authorization Number (RMA#)
One of our customer care specialists will provide you with:
An RMA#
An email with detailed return shipping instructions
Step 3: Pack & Ship
Pack everything that came with the product using its original packaging.
Affix the return shipping label that we provided to the package. If we didn't provide you with a return shipping label, make sure to include the RMA# on the package.
Ship the package to the address specified in the email you received from Step 2.
Step 4: Receive Your Refund or Exchange
After we receive your package, we'll process your refund or exchange immediately. You can expect to see the refund, less any applicable restocking fees, credited within 5-7 business days, to the payment method that you used when you originally placed your order. If you selected an exchange, we will ship you replacement item out immediately.
Restocking Fees
All returns are subject to a 20% restocking fee.
We'll waive the restocking fees if we made a mistake or if the product was delivered defective.
We'll also waive the restocking fee if you decide to exchange your product with another purchase.
---
Frequently Asked Questions
Which products can be returned or exchanged?
Most products can be returned within 30 days of purchase, provided it is returned in original packaging and the items are in new and unused condition. We reserve the right to charge up to the full value of the product for items not received in this condition.
Products that cannot be returned or exchanged:
Some products, including, but not limited to, custom patterned and custom, and painted items are not returnable
Products that shipped via freight, typically oversized and heavy items.
Products that have been installed on your vehicle
Products that have been modified (drilled or altered in any way)
Under what conditions may I return an item?
Defective Product
While we pride ourselves in our partnerships with leading vendors, accidents happen. Call us at (800) 874-8888 option #2 once you've discovered the defect, and we'll straighten it out.
Damaged Product
Occasionally packages in transit can become damaged. Call us right away so we can set it straight.
Incorrect Product
If you've received an incorrect product, or if we've guaranteed fitment on your order, and the product does not fit your vehicle, give us a call at (800) 874-8888 and select option #2, and we'll start the return process for you.
Lost Package
If your tracking information says delivered, but you haven't received your package yet, let us know. We will work with the carrier to get to the bottom of it.
Do I have to pay for return shipping?
Returns happen, and we're here to make the experience easy! In most cases, you are responsible for return shipping, but we can offer you a discounted return shipping label. If your item arrived defective or we made a mistake, we will happily take care of the return shipping.