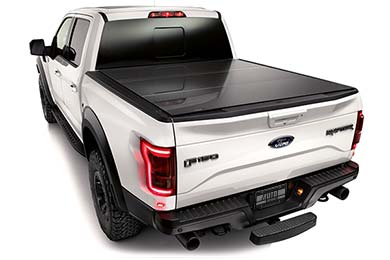 SECURE SHOPPING GUARANTEE
Weathertech Hard Tri-Fold Alloycover Tonneau Cover - Folding Truck Bed Cover
Features
Keep your cargo neat, safe and dry with a WeatherTech Hard Tri-Fold AlloyCover Tonneau Cover
This low-profile foldable hardcover sits less than 0.5' above the bed when closed and still ensures visibility out your rear window when open
AutoLatch II latching system complements your locked tailgate for superior truck bed security
Extruded aluminum channels support the panels, so you can pile up to 400 lbs of evenly distributed weight on top
Retractable storage clips hold the hard truck bed cover secure when open
Panels consist of sturdy aluminum alloy with watertight, reinforced vinyl coated hinges
Textured matte-black finish blends in with your truck's bed caps for an OEM look
Flexible rubber seals reduce vibration and noise while providing a barrier for moisture
Maximizes protection from harsh weather conditions without compromising style or strength
Your WeatherTech Hard Tri-Fold AlloyCover Tonneau Cover is protected by a Limited Lifetime Warranty
Description
Sometimes, it just doesn¡¯t make sense for something to have just one function. Your WeatherTech Hard Tri-Fold AlloyCover Tonneau Cover does such a great job of protecting your payload from the weather and would-be thieves that you may start looking for other ways to put its rigid folding panels to work. We don¡¯t blame you. Once you have peace of mind that your cargo is safe and sound and dry as can be with the continuous perimeter seal, take advantage of the fact that this folding tonneau cover can also shoulder up to 400 lbs of weight on top. Use it as a portable picnic table for your backcountry brewskies, an open space to carefully inspect the contents of your toolbox, or a secure surface to assemble that new furniture that mysteriously arrived in 1,000 pieces. Whatever you do, you¡¯ll get the best bang for your buck with a WeatherTech tonneau cover.

Tired of people snagging your gear? There's nothing worse than opening your bed cover expecting to see your favorite drill set and, instead, being greeted with a truck bed full of nothing but disappointment and despair. Keep sticky fingers away from your valuables with the help of the AutoLatch II latching system found on this WeatherTech tonneau cover. It complements your tailgate lock for unmatched truck bed security. Once you've locked up your folding tonneau cover and tailgate, those sneaky midnight bandits won't have any luck getting in.

Despite being extra-strong thanks to its high-grade aluminum panels, it's still only a spritely 50 pounds - great for when you need to move it out of the way in a hurry. The panels easily fold up to your cab when hauling large loads and won¡¯t block your views of the road behind you. Have a load that fits with not a centimeter to spare? We¡¯ve been there. Removing your tonneau cover is a one man job and can be done in a jiffy.

The next time you're on a family road trip, or doing a long weekend drive to get anywhere but here, you won't have to worry about your cover loudly complaining down the highway. You know, that one annoying squeaking noise you can hear over the top of the radio, the one that¡¯s coming from the back of your truck? No more. This WeatherTech tonneau cover features minimal metal-on-metal contact and sports flexible rubber seals around the whole perimeter to help eliminate squeaks and rubbing noises, blocking weather out in the process. You¡¯re on your own when it comes to drowning out the loud noises coming from your kid¡¯s video game for the next 3 hours.

When it comes to keeping your cargo safe, we know that you just wanna know your folding tonneau cover is in it for the long haul. Rest easy, because your new truck bed security system is back is backed by a Limited Lifetime Warranty from the folks at WeatherTech.
Manufacturer Info
Return Information
When you buy from AFA Motors, you can rest assured that you'll get the right part for your vehicle, or we'll make it right.
Free Return Shipping on Exchanges
We'll pay for the return shipping on exchanges for all orders (even gifts with proof of purchase).
Plus every purchase comes with our 1-year lower price guarantee and expert service from our team of Gearheads.
It's our commitment to you, exclusively from afa-motors.com.
Some restrictions apply. See terms below.
---
How to Return an Item
Step 1: Start a Return from Your Online Account
Please log in to your account. Locate and click on your order under Order History. Find the item you wish to return or exchange and click on Return Item to submit your request.
Step 2: Receive a Return Authorization Number (RMA#)
One of our customer care specialists will provide you with:
An RMA#
An email with detailed return shipping instructions
Step 3: Pack & Ship
Pack everything that came with the product using its original packaging.
Affix the return shipping label that we provided to the package. If we didn't provide you with a return shipping label, make sure to include the RMA# on the package.
Ship the package to the address specified in the email you received from Step 2.
Step 4: Receive Your Refund or Exchange
After we receive your package, we'll process your refund or exchange immediately. You can expect to see the refund, less any applicable restocking fees, credited within 5-7 business days, to the payment method that you used when you originally placed your order. If you selected an exchange, we will ship you replacement item out immediately.
Restocking Fees
All returns are subject to a 20% restocking fee.
We'll waive the restocking fees if we made a mistake or if the product was delivered defective.
We'll also waive the restocking fee if you decide to exchange your product with another purchase.
---
Frequently Asked Questions
Which products can be returned or exchanged?
Most products can be returned within 30 days of purchase, provided it is returned in original packaging and the items are in new and unused condition. We reserve the right to charge up to the full value of the product for items not received in this condition.
Products that cannot be returned or exchanged:
Some products, including, but not limited to, custom patterned and custom, and painted items are not returnable
Products that shipped via freight, typically oversized and heavy items.
Products that have been installed on your vehicle
Products that have been modified (drilled or altered in any way)
Under what conditions may I return an item?
Defective Product
While we pride ourselves in our partnerships with leading vendors, accidents happen. Call us at (800) 874-8888 option #2 once you've discovered the defect, and we'll straighten it out.
Damaged Product
Occasionally packages in transit can become damaged. Call us right away so we can set it straight.
Incorrect Product
If you've received an incorrect product, or if we've guaranteed fitment on your order, and the product does not fit your vehicle, give us a call at (800) 874-8888 and select option #2, and we'll start the return process for you.
Lost Package
If your tracking information says delivered, but you haven't received your package yet, let us know. We will work with the carrier to get to the bottom of it.
Do I have to pay for return shipping?
Returns happen, and we're here to make the experience easy! In most cases, you are responsible for return shipping, but we can offer you a discounted return shipping label. If your item arrived defective or we made a mistake, we will happily take care of the return shipping.